Categories
Military, Tactical, Logistic Support Vehicles & related equipment
Maintenance Repair Overhaul and Logistics Support
OTT Technologies (Pty) Ltd. (OTT) is in operation since 1980 and gained its expertise in the refurbishing of military vehicles as well as the design, development and manufacturing of armoured and mine protected vehicles over more than 20 years. The company is ISO 9001 certified and has the following business lines:
New Armoured Vehicles
OTT designs, develops and manufactures wheeled armoured and mine protected vehicles for police, military, peace keeping forces and security companies needs.
Tactical Vehicles
OTT Technologies designs, develops and manufactures new tactical vehicles for police and military forces needs. The tactical vehicles are without ballistic protection and use commercial truck drivelines.
Re-Manufactured and Refurbished Vehicles
OTT specialises in the re-manufacturing and refurbishing of ex-stock all terrain military and police vehicles and is internationally known for these vehicles. The product lists includes Ratel APC's, Samil 20 Hunter SOV, Samil logistic trucks, Casspir mine protected vehicles and Nyala RG12 police APC's.
Truck Spares
OTT has large stocks of new and refurbished spare parts for Ratel, Samil trucks, Casspir MPV's, Buffel MPV's, Mamba 4×4 MPV's and Unimog 416 trucks.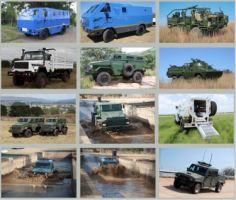 OTT Technologies
PO Box 11296, Hatfield, 0028, Pretoria, South Africa
+27128028700
+27128028770
armour@ott.co.za