Categories
Textile, Individual Equipment, Clothing
First established in 1954 as a shoe retail shop, Özkan Kundura has become through the years one of the biggest manufacturers in Turkish shoe industry and one of the leading suppliers of military shoes and boots, police boots and safety shoes.
The first production facility was launched in 1978 and in 1995 the company had already a plant occupying 13.000 m2 plant. With investments on machinery and robotics, the production capacity reached 1.600.000 pairs/year level. The company is capable to produce direct attached and stitched sole, single and double-density rubber injected sole, TPU/PU or polyurethane double-density injected sole and Goodyear welted construction types. Besides these, since the end of 2004 Özkan Kundura started the production of cold climate boots with Gore-Tex®.
The company's in-house laboratories are capable to conduct all the tests regarding EN ISO 20345 standard and other chemical, physical and function tests according to needs of special military uses.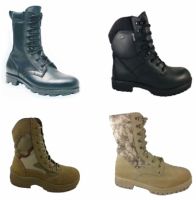 Ozkan Kundura Military and Safety Footwear
Organize Deri San. Bölgesi 7/A Yol P-2 Tuzla, Istanbul, Turkey
+90216 3941471
+902163941473
ozkan@ozkankundura.com