Last Update
September 13, 2018
Categories
Other Aerospace, Defence and High Technology related companies
PPD is an innovative Danish company, serving the defence industry and specializing in the development and production of lightweight packaging solutions for military transportation, handling and storage of hazardous, high valuable and fragile goods according to military requirements.
PPD is active within two main areas:
Ammunition boxes, Lightweight plastic boxes/cases /containers for: Ammunition (small, medium and large-arms); Pyrotechnics; Explosives; Countermeasures, Flares, etc.; Weapons, etc.
Packaging solutions for Transportation, Handling and Storage of: Electronics; IT equipment; EO equipment; Radar systems; Spare parts; Mechanical parts; Aerospace parts, etc.
All products are tested according to relevant environmental standards such as, but not limited to: MIL-STD, STANAG / MOPI, DEF-STAN and the UN ADR convention.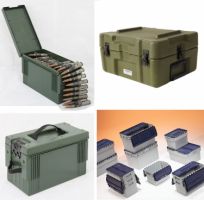 PPD PlastPackDefence
Thorsvej 6, 4100 Ringsted, Hvidovre, Denmark
+4555372762
je@ppddk.dk