Last Update
June 20, 2023
Categories
Established in 1991 as a manufacturer of Birdscaring Cartridges, Primetake is a UK based manufacturer and supplier of specialist ammunition, 12 Gauge, EOD and public order solutions.
Specialist Ammunition - Primetake's range of brass ammunition consists of Ωmega Sniper range and a variety of specialist small arms ammunition including Frangible, Subsonic and 9mm Counter Terror/Sky Marshal rounds.
12 Gauge - Primetake manufactures a comprehensive range of specialist 12 Gauge shotgun ammunition designed for use by military, police and law enforcement units. These can be supplied in either standard plastic or aluminium waterproof cases.
Distraction/Pyro - For training, simulation, and operations Primetake offer a range of Pyrotechnic products for various applications including Stun, Distraction, Smoke, Illuminating and Initiating.
EOD - Primetake manufactures a range of EOD equipment for use in military applications.
Public Order - Primetake's range includes products designed to be used during riot control operations or where less than lethal force is necessary.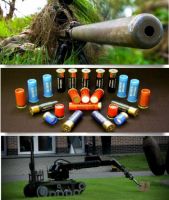 Primetake Ltd
Reepham Road, Lincoln, LN3 4EZ, Fiskerton, United Kingdom
+441522752323
+441522752484
sales@primetake.com