Categories
Radar, Sonar, Navigation, Targeting, Surveillance
Electrical, Electronics & Electro-optics
Pro Patria Electronics is acting as developer and manufacturer of surveillance equipment and as system integrator, delivering products and services to the global law-enforcement and homeland security community. The company is member of the Defence Industry Association of Hungary.
Pro Patria Electronics was founded in year 2000 in Budapest, Hungary. The company's product range spreading from tower-mounted desert radar systems and man-portable surveillance equipment up to coastal radars and vehicle-mounted security solutions is addressing the growing need in highly effective military and special technical equipment.
The rise in power and activity of transnational criminal and paramilitary organisations, organized unlawful combatants, terrorists and contrabandists, as well as the escalation of threats to civil population, borders and infrastructure require powerful technical solutions and upgrading of surveillance and security systems of border protection and law-enforcement services.
Pro Patria Electronics is committed to develop, manufacture and deliver high quality radar products and integrated systems that will serve as a reliable technical basis for providing advanced surveillance services and for safeguarding of security and stability of regions, lands and people.
Portable Ground Surveillance Radar - PGSR-3i 'Beagle' is a proven, unique lightweight man-portable radar, which is capable of intercepting, detecting and tracking targets moving on or close to the ground. It can also classify and differentiate targets based on their size and movement characteristics.
Perimeter Security Radar - PSR-2i 'Doberman' detects and classifies moving targets whether they are moving in a usual open manner or with the adverse intention of remaining hidden and hardly detected – like e.g. crawling persons. Due to its high resolution, PSR-2i 'Doberman's' performance in separating slowly moving targets from the stationary surroundings is much better than with common-use radars.
Adaptive Multisensor System - The Adaptive Multisensor System integrates a wide range of surveillance sensors such as radars, thermal imagers, video cameras and other devices into one complex but easily usable system. While the radars provide continuous observation of a large area detecting any movements, the electro optical sensor arrays provide detailed picture of any targets for accurate identification.
Mobile Ground Surveillance Vehicle - The MGS3 'Scout' Vehicle is a mobile surveillance unit offering a unique cost-efficient defense solution providing an increased capability of early threat recognition and improved perimeter control.
Tower-Mounted Ground Surveillance Radar - PGSR-3iFT 'Beagle' is a tower-mounted radar for detection, tracking and classification of targets moving on or close to the ground. PGSR-3iFT 'Beagle' is a member of our fix radar family together with the coastal sea surveillance radar. It was designed for desert and harsh environment operation. It is placed inside a hermetically sealed Radom to withstand extreme weather and environment challenges.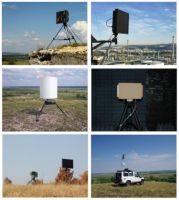 Pro Patria Electronics
Konyves Kalman krt. 12-14, 1097, Budapest, Hungary
+3613227010
+3613447020
info@propatria-inc.com