Last Update
June 29, 2023

Categories
Metal Processing, Parts & Components
Raw Materials
PT Krakatau Steel (Persero), was first established as the Trikora Iron Steel Project by President Soekarno in 1970, and since then has grown to be the largest steel producer in Indonesia. Krakatau Steel has demonstrated rapid growth, and in less than ten years, the Company has added various production facilities, such as the Sponge Iron Plant, Steel Billet Plant, and Wire Rod Plant, as well as infrastructure facilities, such as electricity power and a water treatment plant, the Port of Cigading and a telecommunication system. These developments led PT Krakatau Steel (Persero) to become an integrated steel company in Indonesia which has complete infrastructure facilities.
As a result of its technical expertise, PT Krakatau Steel (Persero) became the first steel company in Indonesia to be awarded the ISO 9001 and ISO 14001. Previously, the Company had produced spiral pipes for the first time in 1973 with the ASTM A252 and AWWA C200 specifications, and obtained the API 5L certification in 1977 and the BC 1 certification since 2009.
In 1993, the Company was awarded the ISO 9001 certification which was also followed by the ISO 9000 certificate because of its solid commitment to maintaining international quality standards. These certifications have been upgraded to the ISO 9001:2000 in 2003. SGS International also awarded another ISO certification highlighting the Company's commitment for environmental awareness and work safety, the ISO 14001, in 1997. On November 10, 2010, amidst volatile market conditions, PT Krakatau Steel (Persero) succeeded in becoming a public company through its Initial Public Offering (IPO) and listed its stock on the Indonesia Stock Exchange.
Currently, PT Krakatau Steel (Persero) Tbk. has a steel production capacity of 3.15 million tonnes per year (unaudited), producing HRC, CRC and Wire Rods and through subsidiaries, the Company also manufactures steel products for specialized industries and produces steel products such as Spiral Pipes, Electrical Resistance Welding Pipes, Reinforcing Bars, and Section Steel. This rolling capacity will be increased to reach 4.65 million tonnes by 2017 by adding HRC capacity by 1.5 million tonnes. The Company markets its products not just domestically, but also internationally.
The Company's expertise to produce such specialized steel, including steel for the defense industry, serves to further strengthen its position as one of the nation's strategic industries.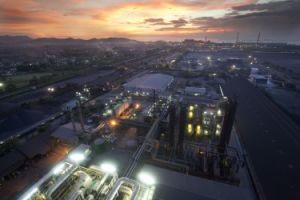 PT Krakatau Steel (Persero)
Gedung Krakatau Steel, Lt. 4, Jl. Gatot Subroto Kav. 54, Daerah Khusus Ibukota, 12950, Jakarta, Indonesia
+6221 522 1255
+62-21 5200876, 5204208, 5200793
corsec@krakatausteel.com