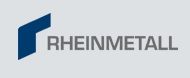 Categories
Aircraft, Helicopter, UAV, Spacecraft & related equipment
Military, Tactical, Logistic Support Vehicles & related equipment
Weapons & Ammunition
Training & Simulation
Radar, Sonar, Navigation, Targeting, Surveillance
Electrical, Electronics & Electro-optics
Mechanical, Electro-mechanical, Hydraulic and Pneumatic components
CBRN Equipment
Services (R&D, training, engineering, consultancy, …)
Maintenance Repair Overhaul and Logistics Support
Rheinmetall was established in 1889 as Rheinische Metallwaaren- und Maschinenfabrik Aktiengesellschaft. Today, Rheinmetall AG, which is listed on the stock exchange, is a financially strong, internationally successful player in the markets for automotive components and defence equipment.
The Rheinmetall Group´s Defence sector is Europe's foremost supplier of army technology and a longstanding partner of the Armed Forces. The Automotive sector with KSPG AG commands a foremost position as a global first-tier supplier to the automotive industry for modules and systems.
Rheinmetall Defence has long been a prominent member of the international defence and security industry. In 2014, Rheinmetall Defence's 10,000 employees generated annual sales of €2.24 billion. As a top European supplier of army technology, the company offers an extensive array of military hardware that enhances the mobility, reconnaissance capabilities, lethality and survivability of troops deployed in harm's way, and also enables the networking of national and international systems. Rheinmetall has spent years pioneering new technologies for protecting friendly forces, systematically expanding its range of products in this critical field.
Rheinmetall Defence and its divisions Combat Systems, Electronic Solutions and Wheeled Vehicles set the global standard for excellence in a wide array of disciplines: from vehicle, force protection and weapon systems to infantry equipment and air defence, and from network-enabled warfare capabilities to electro-optics and simulation technology. Today, Rheinmetall Defence supplies more than seven hundred different products, primarily systems and equipment for ground forces, but also naval, air force and tactical law enforcement applications.
Rheinmetall Defence's core competencies stand for capabilities- oriented innovation: new generations of vehicles with optimized protection concepts, network-enabled sensors and optronics, platform-independent weapon systems, C-RAM-capable air defence and high-performance ammunition, including non-lethal variants.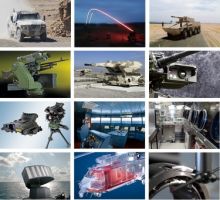 Rheinmetall AG
Rheinmetall Platz 1, 40476, Düsseldorf, Germany
+4921147301
+492114734727