Last Update
September 10, 2018
Categories
Rippel Effect is a privately owned original equipment manufacturer (OEM) of military equipment and systems. The company has been supplying a range of own designed grenade launchers, sighting and observation systems, and accessories to defense and law enforcement agencies worldwide. All products are manufactured to comply with the latest stringent military (NATO) standards.
Rippel Effect's fully qualified 4th generation handheld 40mm Multi-shot Grenade Launchers (MGL) are in service with numerous military and paramilitary forces, marines and special operations forces in the Middle East, Latin America and Southeast Asia. The flagship XRGL40® extended range grenade launcher is certified to fire both Low- and Medium Velocity 40mm grenades, as well as less-lethal riot /crowd control ammunition from the same launcher with no configuration changes. Rippel Effect also manufactures a dedicated less-lethal launcher available in both 40mm and 37/38mm, specifically for peacekeeping and law enforcement operations.
Having a holistic approach, the company designs and develops a complete system comprising weapon, sight, ammunition and ancillary equipment. Therefore, their GR40® electronically programmable sighting system is able to distinguish between the use of low- and medium velocity ammunition. Rippel Effect's weapon mounts enable the use of the launchers on vehicles and boats without reconfiguring the weapon, yet allowing the operator to de-bus in seconds with launcher in-hand. The compact, lightweight UBL40™under-barrel grenade launcher for assault rifles was designed primarily with Rippel Effect's upgrade kits for AK-47 type assault rifles in mind.
XRGL40® 40mm Extended Range Multi-shot Grenade Launcher (40mm MGL) - Rippel Effect designed this as a lightweight area weapon and force multiplier for extreme firepower and non-lethal applications. This 4th generation 40mm MGL fires both standard 40 x 46mm low-velocity (LV) type rounds and medium velocity (MV) 40 x 51mm ammunition, as well as less-lethal grenades without reconfiguring the weapon. Favoured by infantry grenadiers, marines and special operations forces in close quarters combat (CQC), it is also ideal for peacekeepers and law enforcement agencies whose operations often preclude the use of excessive force.
Double Mount for the XRGL40® Extended Range 40mm Grenade Launcher – This is a recoil-buffered soft mount system specifically developed and qualified for the Rippel Effect series of 40mm Multi-Shot Grenade Launchers. It accommodates the weapons without any modification to the launchers. It can be used as a primary or secondary weapon system for vehicles and boats, allowing for very effective firepower in an ambush or fast attack situations. The Double Mount is a clip-in-clip-out system allowing the operator to de-bus in seconds, with the launchers in-hand to be used away from the vehicle / boat.
CRAR-32™ Sighting System – This system was developed specifically for close quarters combat (CQC) where the war fighter has to instantly react to any threat. Its large precision-optics and intelligent electronics combine to enable faster and more reliable accurate target acquisition. This ensures maximum operator self-protection and successful mission execution. A key advantage is that this one sight, fitted to the universal elevation mechanism, can be used across platforms: from assault rifles (with or without under-barrel grenade launchers) to machine guns and 40mm multi-shot grenade launchers (MGL). The CRAR-32™is qualified according to the latest NATO specifications.
Upgrade Kits - Rippel Effect's AK47 Upgrade Kit transforms the ubiquitous military assault rifle into a versatile platform that significantly enhances the war fighter's operational effectiveness. The Upgrade Kit requires NO mechanical modifications on the weapon, which can – subsequent to the upgrade – accommodate a range of ancillary equipment, like a reflex sight, flashlights, lasers, tactical grips and an under-barrel grenade launcher.
Ammunition - As pioneers of the extended range 40mm concept, Rippel Effect qualified the first extended range 40mm MGL, the XRGL40® in 2007. Conceiving the new extended range 40mm MGL as a system, Rippel Effect developed it to comprise the launcher, sighting system and the ammunition. At the time there was no extended range 40mm ammunition available, so Rippel Effect developed its own experimental ammunition, 40 x 51mm ERLP, to prove and qualify the 40mm extended range concept. It weighs 5 kg and is lighter and more compact than any other NATO qualified multi-shot grenade launcher on the market today, with the exception of Rippel Effect's own MSGL40®. Rippel Effect owns the IP (intellectual property) to 40 x 46mm ammunition and to the 40 x 51mm ERLP ammunition, even though we do not manufacture the ammunition ourselves.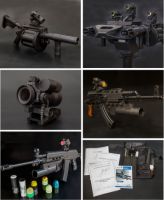 Rippel Effect
78 Tijger Vallei Office Park 20 Pony Street, Silver Lakes, Pretoria, South Africa
+27128034346
xrgl40@rippeleffect.co.za