Last Update
August 23, 2018
Categories
Electrical, Electronics & Electro-optics
Mechanical, Electro-mechanical, Hydraulic and Pneumatic components
Rockford Components Ltd. is the UK's largest independent provider of wiring, interconnect and system solutions for the defence, aerospace, marine and nuclear industries.
Electrical Cable Assemblies - Rockford produces a wide range of electrical cable assemblies for both military and commercial applications. They range from older designs using conduit systems through to current technology utilising high speed data and fibre optics.
Electro-Mechanical Assemblies - Rockford produces a wide range of Electro-Mechanical Assemblies for a wide range of applications. From simple power distribution to full control systems Rockford can design and manufacture in house.
Machining and Fabrication – The company's in house facilities allow them to produce rapid prototypes and small series production as a cost effective solution. Their comprehensive tooling and stock allows fast turnaround and low set up and tooling costs.
Complete Systems - Rockford Engineering and Design department offers a complete system design service. From simple concept or detailed specification through to production systems, and through life support. Disciplines include mechanical, electrical and electronic design. Rockford Engineering and Design department will work with customer requirements and specifications to supply a complete suite of documentation with the finished system, which can include the following: Harness Drawings, Block Wiring Diagram, Theoretical Wiring Diagram, Mechanical Data Pack, Operating instructions, Safety Case Support, Installation Instruction, Full System Test Certification, Others as required
Vinten Cameras - Rockford Components Ltd. have installed a repair and maintenance bay dedicated to airborne reconnaissance wet film camera equipment as manufactured by W. Vinten to provide support to worldwide users of this equipment. The capability includes, the supply of spare component parts from new ex MOD surplus stocks held and extends to the manufacture of non-stocked parts from Vinten engineering drawings and specifications held in a library of technical information. Supplies of consumable and routine maintenance parts are also available.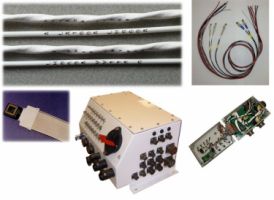 Rockford Components
Rockford House, Acer Road, Suffolk, IP12 2GJ, Rendlesham, United Kingdom
+441394420800
+441394420820