Last Update
September 13, 2018
Categories
IT, Computing and Software
Services (R&D, training, engineering, consultancy, …)
Training & Simulation
Since its foundation in 1985, Systematic A/S has developed into an international IT company that focuses on five core business areas: Public & Private, Healthcare, Defence, Intelligence & National Security, and Library & Learning.
In the defence sector, Systematic has delivered high quality software and services since 1985. The company specialises in interoperable command and control solutions and is delivering these solutions to over 40 countries and 100,000 users worldwide.
Systematic's business unit for Intelligence & National Security delivers solutions, services and know-how for surveillance, prevention, analysis, threat assessment and crisis handling. For more than 20 years, Systematic has supplied secure mission-critical solutions to national security customers. From their business unit for Intelligence & National Security Systematic delivers solutions, services and know-how to intelligence, emergency and law enforcement.
Healthcare sectors continuously raise new demands on healthcare IT in order to keep costs down and provide high quality care efficiently and safely. Systematic's Columna eHealth platform responds to challenges in modern healthcare sectors by ensuring the delivery of affordable quality healthcare. Columna is the new generation eHealth platform that delivers full IT support to run a highly specialized and modern hospital with a focus on patient-centric care. The system is fully customizable and provides the optimal level of information flow in one clinical overview for the given department.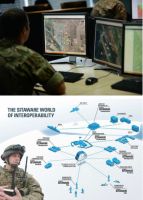 Systematic A/S
Søren Frichs Vej 39, 8000 , Aarhus, Denmark
+4589432000
+45 8943 2020