Last Update
September 13, 2018
Categories
Aircraft, Helicopter, UAV, Spacecraft & related equipment
Engines, Propulsion, Power Generation
Metal Processing, Parts & Components
TEI was founded in 1985 as a strategic model in context of the high technologies to be gained in the Turkish Defence Industries through the F16 aircraft and the F110 engine which is powering this aircraft; which were to enter the inventory of the Turkish Air Forces. The objective of foundation is the establishment, operation and maintenance of a modern aircraft engine industry in Turkey, on R&D, design, manufacturing, maintenance, repair, overhaul, modification and modernization of aircraft engines and other gas turbine engines.
50,5% of TEI's shares belong to TUSAŞ-Turkish Aerospace Industries, Inc., 46,2% of shares belong to General Electric corporate, 3,3% of shares belong to Turkish Armed Forces Foundation and Turkish Aeronautical Association.
TEI is providing the aviation industry with high quality products in its field of activity which are "Parts and Module Production", "Engine Assembly and Test", "Maintenance, Repair and Overhaul", "Services", "Engine Design and Product Development", is named as a world class manufacturing and design centre.
TEI is among the biggest exporters of Turkey in a field that requires advanced technology, thus a big part of TEI's income comprises from export. Among the 500 big industrial enterprises of Turkey, TEI is 209th in manufacturing sales, and 56th in export. TEI holds the second place for 2012 Defence and Aviation Sector Turkey Export.
Part and Module Manufacturing
CNC machining/grinding; Disk broaching; Jig grinding; CNC shot peening; CNC plasma spray and HVOF coating; Electro-chemical machining, Electro-Chemical Grinding; Vacuum heat treatment, Brazing; Chrome coating, nickel coating; Macro Etch, Titanium alloys "Blue Etch" anodize; Black oxide coating; Tig/resistance welding; TIG welding; Alkaline and titanium cleaning; Sermetal coating; Laser machining; STEM drilling; Fabrication operations (Forming, Punch Drilling,Welding, Honeycomb applications etc.); F.P.I/M.P.I/Ultrasonic measurement ; C.M.M. / Stack Projection; Eddy current measurement / X-ray measurement.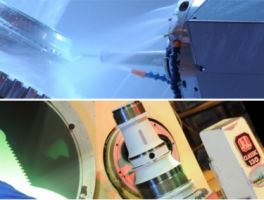 TEI Eskisehir
TEI Tusaş Motor Sanayii A.S. Esentepe Mahallesi Cevreyolu Bulvarı No:356 26003 Tepebası, Eskisehir, Turkey
+902222112100
+902222112101
info@tei.com.tr