Last Update
August 22, 2018
Categories
CBRN Equipment
Composites, Plastics & Rubber
Textile, Individual Equipment, Clothing
Weapons & Ammunition
The TRAYAL Corporation is located in in the city of Krusevac, Serbia and manufactures the following products:
Explosives (initiating devices and smoke pyrotechnics).
Protective equipment (for personal and collective needs, rubberized textiles and activated carbon).
Rubber goods for several market sectors (protective equipment, automation, pharmaceutical industry, transportation, etc.).
Tyres for different types of vehicles including tractors, trailers, forklifts and motorcycles.
The production of industrial explosives has the longest tradition. Besides the black and nitrocellulose powder, the production of nitrotoluene explosive started in 1948, of cast explosive in 1974, of liquid explosive of SLURRY type in 1976 and many other types some time later. The production programme also includes smoke and flammable devices.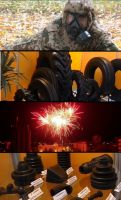 TRAYAL Corporation a.d.
Parunovacka 18 V 37000, Krusevac, Serbia
+38137422328
+38137428507
headoffice@trayal.rs