Last Update
September 10, 2018
Categories
Aircraft, Helicopter, UAV, Spacecraft & related equipment
Electrical, Electronics & Electro-optics
Services (R&D, training, engineering, consultancy, …)
Ships, Vessels, Submarines & related equipment
Twiga Services & Logistics has successfully provided turn-key projects for military, security and humanitarian aid clients underpinned by the development of local capabilities and technology transfers. These projects include Armoured Vehicle manufacturing; joint development of military maintenance workshops; establishment of logistic support systems and project management as well as the supply of a wide range of technical training programmes.
With more than four decades of institutional knowledge and experience in the South African defence industry and defence engineering Twiga Services has successfully developed armoured vehicle manufacture facilities in Sub-Saharan Africa. Client specified joint ventures drive the development of indigenous defence capabilities supplying armoured vehicles, rugged boats, night vision and thermal imaging devices and mobile field equipment systems.
Key capabilities and leading products:
Joint venture development of armoured vehicle manufacture facilities;
Manufacture and assembly supported with transfer of technology, skills and expertise;
Client and country customized acquisition programmes for defense, security and humanitarian sectors;
Four decades of institutional knowledge and experience in the South African defense industry and defense engineering;
Nyoka 4x4 Armoured Personnel Carrier and Weapon Platform variants;
Military vehicle remanufacture programmes;
Robust military night vision and thermal imaging devices;
Virtually indestructible Rhino Boat for riverine and littoral operations;
Logistic and supply management programmes;
Project Management and Defence Advisory services.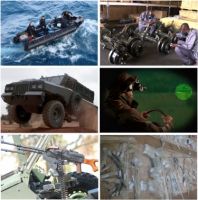 Twiga Services & Logistics
38 Gen Van Ryneveld Street Eulophia Corner Persequor Techno Park, Lynnwood, South Africa
+27123454445
info@twiga-africa.com