Last Update
September 14, 2018
Categories
Metal Processing, Parts & Components
Other Aerospace, Defence and High Technology related companies
VALPRO Ltd. is one of the largest metal processing companies in The Baltic States specialising in manufacturing of metal cans, fire extinguishers and fire extinguisher cylinders and providing periodic inspection of gas cylinders. For more than 60 years the company has offered high quality metal products and metal processing services to clients all around the world.
VALRPO Ltd. is one of Latvia's leading export companies exporting 93% of its manufactured products to more than 25 countries. The products manufactured by VALPRO have users in civil and military sector not only in Europe but also in Australia, North America, Asia and Africa.
VALPRO Ltd. is ISO 9001:2008, ISO 14001:2004 and OHSAS 18001:2007 certified.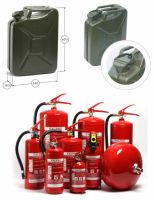 Valpro Ltd.
L.Laicena street 2, LV- 4201, Valmiera, Latvia
+371 64 207 240
+371 64 207 250
valpro@valpro.lv