Last Update
September 28, 2017
Categories
Electrical, Electronics & Electro-optics
Other Aerospace, Defence and High Technology related companies
Medical
Drass designs and manufactures diving systems since 1927 and currently has the largest developing business and ongoing projects. Drass 100 Series is the only recognized, standard and complete package of industrialized equipment of serial production in the industry. Most of the diving components and equipment are developed in house granting the best delivery time and the maximum level of quality. Thanks to the intense R&D activity, Drass holds key patents covering important solutions applicable to the saturation diving. Drass is deeply involved in the vessel integration of the diving spread offering a turnkey engineering to the ship designers, and a complete support to the ship builders during the commissioning and testing.
DIVING SYSTEM
With more than 40 saturation systems delivered worldwide, Drass is the world-recognized leader of Saturation Diving Systems design, manufacturing and installation. The modern and DNV approved Diving design is standardized for 18 divers, a twin Diving Bell and it is rated for 300 meters. The company's own Shock Absorber System enhances the performance of the handling system up to 4 meters in significant waves. The Systems are designed and delivered in compliance with the IMCA standards and provided with FMEA Analysis from the detailed design stage.
MEDICAL
Drass is the recognized designer and manufacturing leader of Hyperbaric Chambers for medical treatment. Thanks to reliable products, user friendly and modern controls, ergonomic and safe solutions, Drass has the widest reference list on the market. All the medical chambers are provided with fire fighthing system, detection system and gas analysis to ensure the highest safety standards.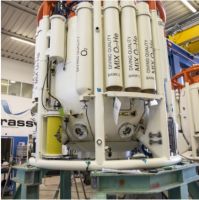 Drass
Via P.N. Magri 112, 57121, Livorno, Italy
+39 0586 421 221
+39 0586 421 223
info@drass.it