Oct 3, 2017
SOURCE: Kelvin Hughes
Australian Coastal Surveillance and Port VTS References for Kelvin Hughes and AMS
Over the past 18 months Kelvin Hughes is pleased to announce a number of new coastal surveillance / Vessel Traffic Service (VTS) radar sensor sales references in Australia including installations, in the Port of Melbourne and contracts awarded for Chevron (Barrow Island) and Port Hedland.
BARROW ISLAND
At Barrow Island off the coast of Western Australia AMS Group (previously known as Australian Maritime Systems) won an order to upgrade the VTS system for Chevron's Oil and Gas production activities. Barrow Island is situated 30NM Northwest off the Pilbara coast of Western Australia between Point Samson and Onslow. Barrow Island is Australia's leading site for oil production and one of the largest sites for gas production also. Despite the presence of this oil and gas activity Barrow Island retains Class A status as one of Australia's finest nature reserves.
The radar selected for the Barrow Island project is the Kelvin Hughes SharpEye™ SBS-800 series for a number of reasons. Firstly, the need to conduct maintenance is a costly and logistical burden on the radar, and the previous magnetron systems would require frequent maintenance routines. Not only is the island remote, but it requires complete self-sufficiency. SharpEye™ is a solid state radar meaning there is no magnetron and regular maintenance routines are not needed. What's more the reliability and MTBF is greatly improved. Secondly, the SBS-800 series features Doppler processing and enhanced pulse compression bringing clutter reduction i.e. sea clutter removal without removing the targets of interest such as shipping and smaller vessels in the area. This capability extends to all ranges, and with tanker mooring for loading of oil via a submarine pipeline from the Island storage tanks to the mooring 10 kilometres East of the Island, this greatly enhances the safety of vessel traffic operating in the area, where the sea state is known to be high the year round.
Shannon Hobbs, Chief Marketing Officer at AMSG said: "The Kelvin Hughes SharpEye™ SBS 800 series radar was an easy choice for AMSG when specifying a potential solution for Barrow Island, the combination of supreme performance, reliability and price point gave AMSG an edge in what is typically a complex environment".
"The Barrow Island radar installation is due to be completed by end of December 2017 by AMSG and early field test results have been excellent" Shannon went on to say.
PORT OF MELBOURNE
At the Port of Melbourne in Victoria a similar requirement lead to a successful project completing in February 2016 notably this time the SBS-900 series featuring 2 dual redundant X-Band SharpEye™ transceivers were selected. The difference between the SBS-800 and 900 being the former locates the SharpEye™ upmast in the antenna rotator housing and the latter a few meters downmast on the tower in a self-contained environmentally isolated enclosure. The key benefit and point being here is both systems unlike magnetron based units do not require the usual additional infrastructure such as a hut at the foot of the radar tower that requires air conditioning, lighting etc., thereby significantly reducing integration costs.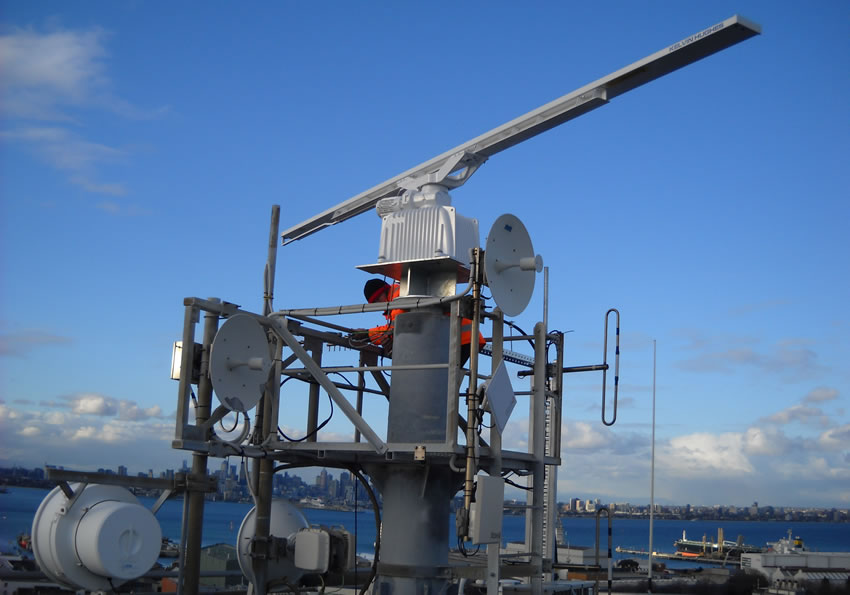 In addition to the Doppler processing and enhanced pulse compression capability the SharpEye™ receiver in the SBS-900 system supplied to the Port of Melbourne VTS includes frequency diversity bringing additional target detection performance along with the excellent small target detection and separation benefits.
This brings the most state of the art VTS sensor technology to one of Australia's busiest ports for containerised and general cargo shipping. In total two SBS-900 systems have been installed by AMS and Kelvin Hughes in the Port of Melbourne.
PORT HEDLAND
Port Hedland located in the Pilbara region of Western Australia is reported to be the highest tonnage port in Australia supporting iron ore exports and other mining commodities as well as offshore natural gas field activities. This northern edge of Australia sees inclement sea conditions all year around producing very high clutter conditions in which radars typically find it difficult to reliably detect targets of interest in. The port itself experiences significant tidal conditions which constrains vessel movements to a four hour window. Traditionally S-Band radars are used to combat the clutter however this does not negate the issue in the severest of weather conditions and also almost completely removes close target discrimination and small uncooperative target detection.
Paul Critchley, Kelvin Hughes Sales Manager Australia said: "Kelvin Hughes are delighted to have been asked to support this enormously important development of the Port Hedland VTS and to again work with our trusted integration partner AMS in Australia. Supplying our SBS-900 radar for this project will enhance port operations with the SharpEye™ technology providing greatly improved situational awareness even in adverse weather conditions with its state of the art radar processing technology providing high performance with low maintenance".
With this latest application of SharpEye™ Kelvin Hughes has reported ten individual references with previous announcements covering the Wheatstone Offshore Gas Processing Platform where SharpEye™ is part of a system designed to protect Australia's largest offshore platform, in addition to the offshore system, the Wheatstone project also encompasses an onshore VTS system, focusing on the monitoring and management of traffic at an LNG terminal near Onslow, Western Australia. As with the Wheatstone platform, Kelvin Hughes has supplied the SharpEye™ SBS-800 X-Band radars.
To ensure safe operations at the Port of Darwin, which is Australia's closest port to Southeast Asia and over 18 times the size of Sydney Harbour, a VTS system was installed for which Kelvin Hughes supplied two SharpEye™ SBS-800 X-Band radars and low profile antennas. The Port of Dampier, the world's second largest bulk export port and also a major port for rig tenders servicing the offshore gas fields, which sore a 60% increase in marine traffic over more than a decade, led to the installation of a new VTS Centre for which Kelvin Hughes also supplied in conjunction with AMSG two SharpEye™ SBS-800 systems. Similarly AMSG and Kelvin Hughes had success with implementation of a system at the Port of Darwin too.
In June 2015 Kelvin Hughes also reported the award of a contract to supply AMSG with a SBS-800 system for the Ichthys LNG project located 220km off the shore of Western Australia in the Browse basin. This, along with a project with AMS and the Vale mining company and also an installation back in 2013 by Kelvin Hughes on Christmas Island, brings the reference count to these significant and demanding VTS radar applications to ten, noting a significant trend of SharpEye™ being the most appropriate sensor for maritime applications where target detection reliability is paramount especially in demanding weather conditions.
View source version on Kelvin Hughes:
https://www.kelvinhughes.com/news/298-australian-coastal-surveillance-and-port-vts-references-for-kelvin-hughes-and-ams