Dec 14, 2017
SOURCE: Pratt & Whitney
Pratt and Whitney Canada's PurePower® PW800 Engine Selected to Power the new Falcon Business Jet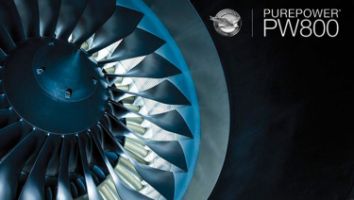 Ready to deliver exceptional performance, the PurePower PW800 engine sets a new benchmark in the long range business jet market with a proven core, sustainable technologies and a leading comprehensive service plan
Pratt & Whitney Canada (P&WC) announced that a member of P&WC's PurePower PW800 engine family has been selected to power the new Falcon Business Jet, which was announced earlier today by Dassault Aviation. P&WC is a subsidiary of United Technologies Corp. (NYSE:UTX).
The PurePower PW800 engine is optimized for high-flying, fast, long-range business jets and shares the same proven, rigorously-tested core technology used in Pratt & Whitney's award-winning PurePower family of geared turbofan commercial engines. The advanced common core technology, employed in 15 different PurePower engine applications, has amassed more than 400,000 in-service hours.
"We are honoured that Dassault Aviation has once again put its trust in P&WC for its new aircraft and we look forward to further develop our long-standing relationship with them on this new platform", said Irene Makris, Vice-President, Sales & Marketing, Pratt & Whitney Canada.
The PurePower PW800 engine incorporates the latest generation of technologies in every aspect; delivering double-digit improvement in fuel efficiency, setting a new "green" engine standard for emissions with the advanced TALON™ X combustor, and its low-noise design and low vibration levels will result in an exceptionally quiet cabin, enabling a more comfortable passenger experience.
Thanks to its robust design, exceptional maintainability, and advanced diagnostics capabilities, the PurePower PW800 engine will deliver best-in-class availability and dispatch reliability to operators. This will be coupled with the PurePower PW800 family's enhanced service offering tailored for today's operator needs.
View source version on Pratt & Whitney:
http://www.utc.com/News/Pages/PWC's-PurePower%C2%AE-PW800-Engine-Selected-to-Power-the-new-Falcon-Business-Jet.aspx