Jul 19, 2018
SOURCE: Aero Vodochody
Aero and SkyTech agreed on a strategic cooperation in the L-39NG program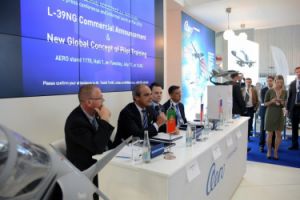 AERO Vodochody, a leading central European aerospace company, and SkyTech, a leading provider of military aviation services and funding solutions, today signed a binding agreement for the delivery of 10 L-39NG jet training aircraft including option for additional 6 aircraft. The combination of the modern L-39NG training aircraft and the innovative approach of SkyTech, brings to the market an unparalleled opportunity for the training of modern air forces.
The L-39NG fleet will be made available by SkyTech for any customer either in the area of training flight hours, or short, mid and long-term leasing. The L-39NG is being certified using the European Military Airworthiness Requirements (EMARs) and thus brings a true compatibility and interoperability within EU and NATO operators avoiding any additional certification and cross-border processes.
The L-39NG fleet agreement includes a set of state-of-the-art simulators and debriefing devices for effective training and learning process. The AERO-SkyTech cooperation is a key element of AERO's global strategy for cooperation with other selected partners offering unprecedented availability of jet training to any Air Force in the world who want the latest platforms but are facing cost restraints.
Giuseppe Giordo, President & CEO of AERO, said: "We are proud to announce that in addition to the recently signed contract with Senegal, we are signing this new agreement achieving a backlog of up to 38 aircraft to be delivered between 2020 and 2022 and coming from international customers and partners. SkyTech represents a strategic partnership for us starting a new era in jet training at a time, when all air forces have an urgent need of cost effective training, with growing time and capacity demands. The solution with SkyTech allows immediate training of the air force personnel and provides operators the time and comfort of selecting a new trainer, or alternatively, it allows them even to use the AERO-SkyTech solution on a long-term basis. We are proud SkyTech selected the L-39NG as a corner-stone of its lead-in training capability."
Dr Paulo Mirpuri, President and CEO of SkyTech considers the cooperation as; "A strategic milestone in SkyTech's evolution and one we are proud to share with Aero".
SkyTech, which is powered by well-known aircraft leasing company HiFly, and partnered with Australian Defence provider Adagold Aviation, is already starting to transform the way militaries look at their procurement modelling. Dr Mirpuri explains; "We can create a situation whereby Air Forces can obtain their necessary squadron and force projection with less strain on already shrinking budgets". In the training pipeline, the L39NG is an important part of our strategy to provide Countries with cost effective options as new pilots move through the various phases from initial screening through to operational squadrons.
He goes on to say that "in time SkyTech will be able to offer Air Forces' access to aircraft that cover the various phases of training and also provide them with choices of aircraft as the trainees' progress". Dr Mirpuri adds; "An Air Force doesn't need to alter its training programmes but will have a choice of aircraft that meets how they conduct each training phase both cost effectively and efficiently. The L39NG is perfect as part of this objective".
View source version on Aero Vodochody:
http://www.aero.cz/en/about-us/media-center/news/aero-and-skytech-agreed-strategic-cooperation-l-39ng-program/