Sep 11, 2019
SOURCE: BAE Systems
BAE Systems wins contracts totaling £112m to support small boats across the UK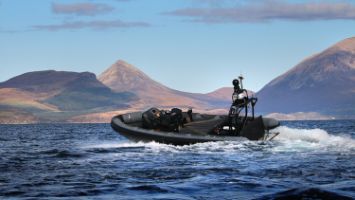 September 10, 2019 - Contracts to support and maintain hundreds of high-speed rigid inflatable boats (RIBs) and other small boats used to help protect Britain's shores have been awarded to BAE Systems under the Boats in Service Support (BISS) contract, the UK Ministry of Defence (MOD) announced today.
Four individual contracts valued at up to £112 million form part of the wider MOD BISS agreement. Over six-and-a-half years, the contracts will help sustain existing skilled jobs as well as create new jobs at BAE Systems' Maritime Services business in Portsmouth Naval Base, increasing the size of the current team by up to 50 per cent.
The contracts awarded to BAE Systems cover the maintenance and support of more than 650 boats ranging in size from five to 18 metres, including those operated from Royal Navy and Royal Fleet Auxiliary vessels, and by the Ministry of Defence Police, British Army and Royal Marines, amounting to 27 different classes of boat.
These small boats are operated from a variety of locations around the UK, including Portsmouth, Devonport and Clyde Naval Bases, as well as in other naval environments such as the training school, HMS Raleigh, and at RM Poole. Other armed forces sites include Longmoor and Chatham.
View source version on BAE Systems:
https://www.baesystems.com/en/article/bae-systems-wins-contracts-totalling-112m-to-support-small-boats-across-the-uk