Sep 17, 2019
SOURCE: Terma
Terma returns to the Moon together with Argotec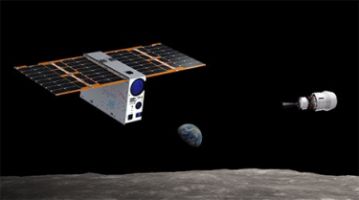 Darmstadt, Germany, 17 September 2019– 20 years ago Terma delivered the Spacecraft Mission Control System for SMART-1 – ESA's first mission to the moon. It was launched in September 2003, and the mission ended when the spacecraft was deliberately crashed into the lunar surface in September 2006.
ArgoMoon cover
Now Terma is returning to the moon. We have been selected to supply the spacecraft control system for the ArgoMoon cubesat. The nanosatellite is built by Turin based Argotec S.r.l. The company is known for developing cutting edge technologies and systems for space exploration and deep space applications.
The mission is coordinated by the Italian Space Agency, ASI and was selected by the National Aeronautics and Space Administration, NASA to be part of Artemis-1, which will launch a total of 13 cubesats.
The launch – due in 2020 - will be the first to use the new American Space Launch System (SLS) which is to be used for future exploration missions. ArgoMoon will be the first European nanosatellite to operate in deep space.
The spacecraft will use the Argotec Mission Control Centre Systems using the Terma CCS5 software which form part of Terma's Ground Segment Suite of products:
"We have developed CCS5 as an "off the shelf" product," explains Roger Patrick, Terma Space. "CCS5 can be used to both control the spacecraft after launch as well as test prior to launch. Compared to years ago when a control system was a much more expensive, bespoke system, we are now able to offer it at a significantly more competitive price."
Terma has been supporting compatibility tests with Argotec. This involved testing the link between Argotec Mission Control Centre in Turin and NASA/Jet Propulsion Laboratory (JPL) in Pasadena, CA and the NASA Deep Space Network. All tests were successful.
"The challenge is as much commercial as technical – cubesats are classed as Nano-satellites and consequently tend to have nano budgets as well. One challenge is then to see if our product is easy to use, flexible and robust enough to be used in this very money conscious market, and so far, the signs are promising," Roger Patrick says.
The primary goal of the ArgoMoon mission is to perform proximity flight operations around the SLS Interim Cryogenic Propulsion Stage (ICPS) making use of fully autonomous tracking algorithms developed by Argotec and provide inspection photographs of ICPS.
After that, a sequence of orbital maneuvers will move the satellite into a geocentric highly elliptical orbit, whose apogee is high enough to allow flybys and imaging of the Moon and the surrounding environment. Furthermore, during this phase it will validate artificial intelligence-based systems to provide autonomous recovery of satellite functions in deep space.
About Terma
The Denmark based high-tech Terma Group develops products and systems for defense and non-defense security applications; including command and control systems, radar systems, self-protection systems for aircraft, space technology, and aerostructures for the aircraft industry.
View source version on Terma:
https://www.terma.com/press/news-2019/terma-returns-to-the-moon-together-with-argotec/