Apr 3, 2020
SOURCE: Boeing
Boeing Statement on KC-46 Agreement with the U.S. Air Force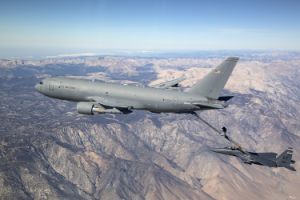 Arlington, Va., April 2, 2020—Boeing Defense, Space & Security President and CEO Leanne Caret issued the following statement regarding Boeing's KC-46 agreement with the U.S. Air Force:
The Air Force and Boeing will make the KC-46 synonymous with aerial refueling excellence. The agreement we announced today takes advantage of new remote vision systems technologies that are orders of magnitude better than what was available when the program started. Generations of women and men in uniform will benefit from the advancements we are making in the science of visualization systems.
Not only will these advancements benefit the KC-46 by preparing it for future capabilities like autonomous refueling, they will also benefit other programs for years to come. The investments we continue to make in the KC-46 clearly demonstrate Boeing's commitment to Pegasus being the standard by which all future refueling aircraft are measured.
# # #
Contact
Jane McCarthy Robinson
Defense, Space & Security Communications
Mobile: +1 (206) 225-6023
jane.mccarthyrobinson@boeing.com
View source version on Boeing:
https://boeing.mediaroom.com/2020-04-02-Boeing-Statement-on-KC-46-Agreement-with-the-U-S-Air-Force