Sep 7, 2020
SOURCE: Aeronautics Group
Aeronautics and its American partner, Prevision, have been selected by the BIRD Foundation for a joint development project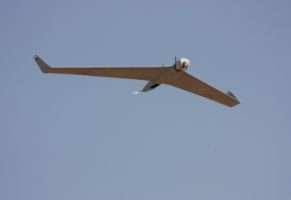 Yavne, Israel, September 7, 2020 - Aeronautics Group - a leading provider of integrated turnkey solutions based on unmanned systems platforms, payloads and communications for defense, HLS and civil applications – has been awarded a special grant from the BIRD Foundation to promote a joint development project with American company, Prevision
Projects submitted to the BIRD Foundation are reviewed by evaluators appointed by the National Institute of Standards and Technology (NIST) of the U.S. Department of Commerce, and the Israel Innovation Authority.
The joint project will see the two companies develop a real-time persistent surveillance system (WAMI) with an automated interface to an electro-optical camera.
Designed specifically for use with unmanned aerial vehicles, the system will automatically detect any change that occurs in the field, and alert the operator to the exact location of the target, handing over the target to the EO/IR payload to meet the mission objectives.
"We are proud to have been selected as the defense company leading this joint development project with our American partner," says Moshe Elazar, Aeronautics' CEO.
"This project will continue to strengthen the bond between the two countries in the interests of maintaining security, especially in these challenging times. Aeronautics Group's goal to be at the forefront of technology is reflected in this future development."
About Aeronautics Group
Aeronautics Group provides cost-effective integrated turnkey solutions based on unmanned solutions, payloads and communications for defense, HLS and civil applications.
As a leading-edge provider in the field of unmanned aerial systems, Aeronautics' broad product portfolio offers combat-proven solutions for Intelligence, Surveillance and Reconnaissance (ISR) missions, with demonstrated excellent performance and operability.
Backed by continuous research and development, these systems are built on three decades of technological and operational experience.
Aeronautics is owned by Rafael and Mr. Avichay Stolero.
For more information on Aeronautics Group, please visit the company's website: www.aeronautics-sys.com
Contact Information
Liat Heiblum
972-50-6333446
Liat@hypetech-marketing.com