Oct 6, 2020
SOURCE: Patria
Patria AMVXP continues to the second phase of Bulgarian vehicle acquisition program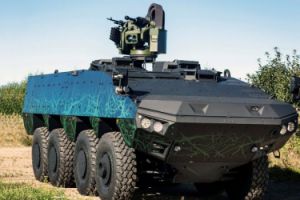 October 5, 2020 - Patria's armoured combat vehicle AMVXP has been selected for the second phase of Bulgarian vehicle acquisition program based on a tender phase. The final decision on the actual acquisition will be made after field tests and negotiations. Also, General Dynamics has proceeded to the second phase.
'This is very good news as it is a sign of the high quality of Patria's vehicles and level of expertise, as well as customers' confidence in them. If Bulgaria chooses Patria AMVXP as its future combat vehicle, we are ready for technology transfer and vehicle manufacturing in Bulgaria," says Jussi Järvinen, President of Patria's Land Business Unit.
Patria AMVXP is a modular, powerful and robust armoured wheeled vehicle representing the top of its class, with a premium level of protection and mobility on terrain and roads. Patria AMVXP is also available with amphibious capability for amphibious and landing operations. The capabilities of the platform allow the integration of any weapon system. With effective and continuous product development and lifecycle support, the fleet is always up to date.
Further information: Jussi Järvinen, President, Land, tel. +358 40 869 6625, jussi.jarvinen@patriagroup.com
https://www.patriagroup.com/products/armoured-wheeled-vehicles/patria-amvxp
https://www.youtube.com/watch?v=teV6bZWFESA
Patria is an international provider of defence, security and aviation life cycle support services, pilot training and technology solutions. Patria provides its aerospace and military customers with equipment availability, continuous performance development as well as selected intelligence, surveillance and management system products and services. Patria's mission is to give its customers confidence in all conditions, and the vision is to be the #1 partner for critical operations on land, sea and air. Patria has several locations including Finland, Sweden, Norway, Belgium, Estonia and Spain. Patria employs 3,000 professionals. Patria is owned by the State of Finland (50.1%) and Norwegian Kongsberg Defence & Aerospace AS (49.9%). Patria owns 50% of Norwegian Nammo, and together these three companies form a leading Nordic defence partnership.
(Photo courtesy Patria)
View source version on Patria:
https://www.patriagroup.com/newsroom/news/2020/patria-amvxp-continues-to-the-second-phase-of-bulgarian-vehicle-acquisition-program