Apr 26, 2021
SOURCE: Elbit Systems Ltd
Elbit Systems Completes Acceptance Tests for Hellenic Coast Guard Combat Suites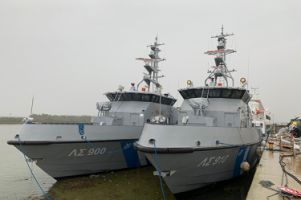 Haifa, Israel, April 26, 2021 – Elbit Systems Ltd. announced today that it successfully completed the acceptance tests for new patrol vessels of the Hellenic Coast Guard (HCG). In March 2019, the Company reported that it was awarded a contract from Cantiere Navale Vittoria SpA to supply combat suites and perform systems' integration for the new patrol vessels of the HCG.
The acceptance tests were conducted in the Aegean maritime arena and included integration level tests of the combat systems and subsystems onboard the vessels as well as live firing tests from the onboard Remote Controlled Weapon Stations.
The systems supplied and integrated by Elbit Systems include the SPECTRO XR Electro Optical payloads, Radars, Navigation Systems, Warship Automatic Identification System (W-AIS) as well as Remote Control Weapon Stations (RCWS) with full integration into a Command and Control software.
The combat suit is designed to support future "plug and play" integration of aerial and surface unmanned systems that will enable expansion of the operational envelop of the patrol vessels far beyond line of sight.
Its broad portfolio of maritime capabilities ranging from EW, sonars, EO and CMS, to autonomous platforms and weapon systems enables Elbit Systems to provide navies with enhanced situational awareness and deterrence capabilities, as well as integrated combat suites for new and in service ships.
About Elbit Systems
Elbit Systems Ltd. is an international high technology company engaged in a wide range of defense, homeland security and commercial programs throughout the world. The Company, which includes Elbit Systems and its subsidiaries, operates in the areas of aerospace, land and naval systems, command, control, communications, computers, intelligence surveillance and reconnaissance ("C4ISR"), unmanned aircraft systems, advanced electro-optics, electro-optic space systems, EW suites, signal intelligence systems, data links and communications systems, radios, cyber-based systems and munitions. The Company also focuses on the upgrading of existing platforms, developing new technologies for defense, homeland security and commercial applications and providing a range of support services, including training and simulation systems.
For additional information, visit: https://elbitsystems.com/, follow us on Twitter or visit our official Facebook, Youtube and LinkedIn Channels.
Visit our Press Relations website for background materials and information regarding Elbit Systems fields of activity.
David Vaaknin
Vice President, Head of Corporate Communications
Tel: 972-77-2946691
Cell: 972-52-8000403
E-Mail: david.vaaknin@elbitsystems.com
Dana Tal-Noyma
Manager International Corporate Communications
Tel: 972-77-294-8809
Cell: 972-54-9998809
E-Mail: dana.tal@elbitsystems.com
View source version on Elbit Systems Ltd:
https://elbitsystems.com/pr-new/elbit-systems-completes-acceptance-tests-for-hellenic-coast-guard-combat-suites/?pageid=PR%20-20%20News