Aug 3, 2021
SOURCE: HENSOLDT
HENSOLDT modernises short-range air defence identification systems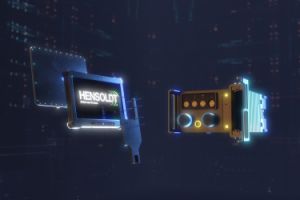 Taufkirchen, August 3, 2021 - As sensor and cryptographic solutions provider, HENSOLDT France is delivering its IFF identification system (IFF= Identification Friend of Foe), the Mode 5-capable MSR1000I interrogator for GBAD systems to MBDA.
An initial order for the delivery of 13 MSR1000I IFF interrogators has been placed by MBDA for very short-range air defense applications of undisclosed export customers.
This new contract marks the first step in a successful cooperation between MBDA and HENSOLDT France concerning the MSR1000I IFF system.
The IFF technology is of central importance for all military operations, allowing field commanders to quickly distinguish friendly from hostile forces defense by automatically sending interrogation and response signals. Enhancing security through new cryptographic algorithms, Mode 5 IFF reduces friendly fire casualties and maximizes the combat effectiveness in the air, on land and at sea.
MSR1000I is specifically designed for defense against low-altitude air threats, primarily helicopters and low-flying close air support aircraft and can be easily integrated on ground-based stations, vehicles, or vessels. With its flexible configuration MSR1000I can be used with a wide range of platforms from man portable version to systems equipped with directional antennas or rotating antennas for a 360° panoramic surveillance. Enhanced with the latest NATO Mode 5 or NSM encrypted modes with universal cryptographic computer compatibility, MSR1000I is a certified solution. More than 200 units are currently under deployment worldwide.
About HENSOLDT
HENSOLDT is a German defence industry champion with a leading market position in Europe and global reach. Headquartered in Taufkirchen near Munich, the company develops sensor solutions for defence and security applications. As a technology leader, HENSOLDT is also continuously expanding its portfolio in the field of cyber and developing new products to combat a wide range of threats based on innovative approaches to data management, robotics, and cyber security. With more than 5,600 employees, HENSOLDT achieved a turnover of 1.2 billion euros in 2020. HENSOLDT is listed on the Frankfurt Stock Exchange, where it is part of the SDAX share index.
Press contact
Lothar Belz
Tel.: +49 (0)731.392.3681
lothar.belz@hensoldt.net
View source version on HENSOLDT:
https://www.hensoldt.net/news/hensoldt-modernises-short-range-air-defence-identification-systems/