Oct 20, 2021
SOURCE: Fokker
Fokker Services Secures Ten-Year MRO Agreement on Honeywell LEAP Engine Accessories and Line Replaceable Units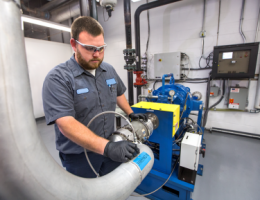 October 20, 2021 - Fokker Services, an Independent Aerospace Service Provider, has signed a ten-year repair license agreement with Honeywell Aerospace for the OEM's LEAP engine accessories and line replaceable units (LRUs.) Until June 30, 2031, Fokker Services is now a Honeywell Aerospace Authorized Service Center and Warranty Repair Shop for these components.
This global contract expands Fokker Services' engine accessory repair capabilities to include all LEAP engines, allowing the organization to support next-generation engines of commercial aircraft such as the Airbus A320neo, Boeing 737 MAX and Comac C919.
Menzo van der Beek, CEO of Fokker Services, said: "This agreement is the natural next step in expanding our MRO capabilities for Honeywell engine accessories. As experts in repairing CFM56 components, we are bringing our in-depth knowledge towards supporting these next-generation engines. With capabilities covering CFM56 and LEAP, we are well positioned to support operators with a diverse fleet of classic and modern aircraft equipment."
Fokker Services' facility will provide repair services on the LEAP engine accessories for global customers, which include LRUs such as the Air Turbine Starter, Starter Air Valves and VBV Actuator.
The team will leverage its more than ten years of expertise in repairing CFM56 accessories towards these new capabilities for LEAP engine accessories. In addition, Fokker Services' custom engineered, fully digital test stands, flow lines and eddy current dynamometers will be utilized to bring best in class testing to each accessory.
In 2017, Fokker Services became a Honeywell Channel Partner with authorization to provide customers with MRO services for avionics and mechanical components. The team offer OEM-based support so Honeywell-equipped aircraft receive high-quality Honeywell licensed parts and solutions, and integrate Honeywell products into modifications and retrofits. In 2019 and 2020, Fokker Services was named Honeywell Channel Partner of the Year EMEAI in various categories.
Follow the latest updates from Fokker Services on LinkedIn and Twitter.
Fokker Services' drive revolves around one purpose: exceed reliability expectations to keep aircraft where they belong, in the sky. As a Global Independent Aerospace Service Provider, Fokker Services creates tailored solutions for the maintenance of regional, commercial and military aircraft.
The organization engineers, repairs, upgrades, and delivers high-quality solutions, innovating in multiple areas to facilitate and support the competitive operations of its customers. Services range from type certificate holder-related product support services to flight hour based component availability and repair programs, spare parts, engineering, modifications and documentation support. The unique combination of OEM (design) expertise and after-sales support services makes Fokker Services an essential partner for the aerospace industry with facilities in Europe, Asia and the Americas.
View source version on Fokker:
https://www.fokkerservices.com/news/press-releases/mro-agreement-honeywell-leap-engine-accessories-lrus