Jan 13, 2022
SOURCE: Elbit Systems Ltd
Elbit Systems Sweden Awarded a Contract to Supply Combat Management Systems to the Royal Swedish Navy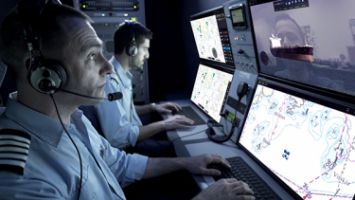 Haifa, Israel, January 13, 2022 – Elbit Systems Ltd. (NASDAQ: ESLT, TASE: ESLT) ("Elbit Systems" or the "Company") announced today that following a competitive tender process, its Swedish subsidiary, Elbit Systems Sweden AB. ("Elbit Systems Sweden"), was awarded a contract from the Swedish Defence Material Administration ("FMV") to supply the Albatross Combat Management Systems (CMS) for the Royal Swedish Navy.
The contract that is in an amount that is not material to Elbit Systems, will be performed over a period of 34 months.
Elbit Systems Sweden will supply the Albatross CMS for the Spårö Class Mine Countermeasures (MCM) Vessels of the Royal Swedish Navy. Albatross is a scalable open architecture CMS that is based on the Company's E-CIX TM platform.
Albatross CMS enables commanders and operators to receive a common operational picture correlating underwater detection and surface tracks, based on real-time data, live video streaming and imagery data, thereby expanding the operational envelop, increasing flexibility and enabling effective decision making during MCM missions.
Tobias Wennberg, General Manager of Elbit Systems Sweden, said: "We appreciate the trust placed by the Swedish Defense Material Administration and the Swedish Armed Forces in our solutions. Elbit Systems sees a growing demand for its naval portfolio, with this award joining recent contract awards from maritime customers across Europe and Asia Pacific."
About Elbit Systems
Elbit Systems Ltd. is an international high technology company engaged in a wide range of defense, homeland security and commercial programs throughout the world. The Company, which includes Elbit Systems and its subsidiaries, operates in the areas of aerospace, land and naval systems, command, control, communications, computers, intelligence surveillance and reconnaissance ("C4ISR"), unmanned aircraft systems, advanced electro-optics, electro-optic space systems, EW suites, signal intelligence systems, data links and communications systems, radios, cyber-based systems and munitions. The Company also focuses on the upgrading of existing platforms, developing new technologies for defense, homeland security and commercial applications and providing a range of support services, including training and simulation systems. For additional information, visit: https://elbitsystems.com/, follow us on Twitter or visit our official Facebook, Youtube and LinkedIn Channels.
Company Contact:
Joseph Gaspar, Executive VP & CFO
Tel: +972-4-8316663
j.gaspar@elbitsystems.com
Rami Myerson, Director, Investor Relations
Tel: +972-77-2946403
rami.myerson@elbitsystems.com
David Vaaknin, VP, Brand & Communications
Tel: +972-77-2946691
david.vaaknin@elbitsystems.com
IR Contact:
Ehud Helft
Gavriel Frohwein
GK Investor Relations
Tel: 1-646-688-3559
elbitsystems@gkir.com
View source version on Elbit Systems Ltd:
https://elbitsystems.com/pr-new/elbit-systems-sweden-awarded-a-contract-to-supply-combat-management-systems-to-the-royal-swedish-navy/