Nov 30, 2022
SOURCE: QinetiQ
QinetiQ, KBR and PA Consulting to work together on Programme to Deliver Transformative Next-Generation Collective Training to the British Army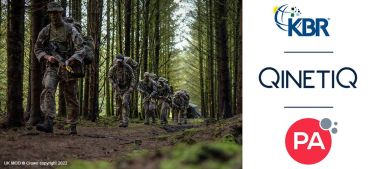 November 28, 2022 - QinetiQ, KBR and PA Consulting have formed Team Paladin to compete for the British Army's upcoming Collective Training Transformation Programme (CTTP). CTTP is designed to deliver an integrated, expeditionary and digitalised Future Collective Training System (FCTS), allowing the Army to train globally where and when it needs. The system will be underpinned by a mutually beneficial relationship with a strategic training partner from industry.
Team Paladin is well positioned to work with the British Army and broader industry to prepare for FCTS. By drawing on the team's collective expertise and experience in delivering programmes of global scale and complexity, designing and integrating collective training capability, and implementing digital and data-driven transformative solutions for defence customers, Team Paladin is looking to bring together the best of industry to transform the British Army's collective training enterprise, improve the experience of soldiers and commanders, and adapt training at the speed of relevance to address global demands.
Christina Balis, Global Campaign Director for Training & Mission Rehearsal at QinetiQ said, "Building a long-term trusted relationship with the British Army starts with forming a strong, cohesive industry team that combines the right capabilities, collaborative behaviours and long-term commitment to the programme. We are delighted to be joining forces with KBR and PA as we look to jointly build the future Army-Industry team that will deliver greater flexibility, adaptability and innovation in land collective training."
Geoff Maple, Strategic Development Director for the Land Environment at KBR said, "Alongside the British Army, KBR is proud to be developing the future of collective training by bringing the best capability to bear together with QinetiQ and PA. In support of the British Army, our joint team will deliver the most collaborative solutions that industry can offer. Building on our joint global scale, experience of the Front Line, dedicated collective training and data-driven approaches, we will offer soldier-focused support to the future of the British Army's collective training."
Paul Finley, Public Sector Defence Lead for PA Consulting said, "Supporting the ongoing modernisation of defence is at the heart of PA's commitment to securing a positive human future. Collective training is a crucial element of ensuring military readiness to counter the threats of the future, and we are delighted to join QinetiQ and KBR to support modernisation and transformation of collective training. We are excited by the opportunity to bring end-to-end innovation, a wealth of sector expertise and our disruptive digital and data capabilities, in support of the British Army's vision of future collective training needs."
The Strategic Training Partner for the programme is expected to be in place in 2025. During the next two years, Team Paladin, in collaboration with broader industry, will refine and tailor their offering to meet the ever-evolving requirements of the British Army for a flexible and data-driven collective training capability.
About QinetiQ
QinetiQ is a global science and engineering company operating primarily in the defence and security markets. We are an information, knowledge and technology-based company with the breadth and depth of approximately 7,000 highly dedicated employees. Driven by its purpose to protect lives and secure the vital interests of its customers, QinetiQ applies cross-domain knowledge and technical expertise to solving customers' mission challenges, helping them to develop, test and deploy new and enhanced capabilities with the assurance they need to operate safely and effectively.
About KBR
We deliver science, technology and engineering solutions to governments and companies around the world. KBR employs approximately 28,000 people performing diverse, complex and mission-critical roles in 34 countries.
KBR is proud to work with its customers across the globe to provide technology, value-added services, and long-term operations and maintenance services to ensure consistent delivery with predictable results.
At KBR, We Deliver.
Visit www.kbr.com
About PA
We believe in the power of ingenuity to build a positive human future.
As strategies, technologies, and innovation collide, we create opportunity from complexity.
Our diverse teams of experts combine innovative thinking and breakthrough technologies to progress further, faster. Our clients adapt and transform, and together we achieve enduring results.
We are over 4,000 strategists, innovators, designers, consultants, digital experts, scientists, engineers, and technologists. And we have deep expertise in consumer and manufacturing, defence and security, energy and utilities, financial services, government and public services, health and life sciences, and transport.
Our teams operate globally from offices across the UK, Ireland, US, Nordics, and Netherlands.
Discover more at paconsulting.com and connect with PA on LinkedIn and Twitter.
PA. Bringing Ingenuity to Life.
View source version on QinetiQ:
https://www.qinetiq.com/en/news/qinetiq-kbr-and-pa-consulting-to-work-together-to-deliver-next-gen-training-to-british-army