Feb 6, 2023
SOURCE: NANUK Europe
Interview with Mr. Herman Vaszlovszky, Managing Director, Nanuk Europe
Mr. Herman Vaszlovszky, Managing Director, Nanuk Europe, gave an exclusive interview to Epicos. Among others, he stated that: "NANUK is a worldwide broad used case product in the consumer as well as the commercial and military markets. Especially for first response and military use, we are well connected to most of the main industry suppliers and governmental institutions."
Mr Vaszlovszky, can you please introduce to us NANUK?
NANUK designs and build their cases for unforgiving environments to organize, protect and carry. Our factory is based near Montreal Canada. With our European headquarters in the Netherlands, we ship out from our central warehouse all over the EMEA region. We assemble and customize our cases according to customer requirements in the Netherlands as well. Because of the stock levels we are able to respond quickly to any customer need. With over 30 representations in the EMEA region we are able to connect at all levels. NANUK is a worldwide broad used case product in the consumer as well as the commercial markets. Especially for first response and military use, we are well connected to most of the main industry suppliers and governmental institutions.
What are the fields of expertise and main activities of your company?
Nanuk cases are designed to be easy customizable to meet every user requirement. Choose from our printing options, inhouse foam design, case color matching to create the perfect carrying solution and tailored to the specific needs of your project.
Which are your leading business solutions?
Develop outstanding case solutions with our partners for customized transportation and storage cases for pistols, rifles and drones.
What are the technological innovations that your cases incorporate?
Superior PowerClaw latching system, Reinforced metal Eyelets, Polyurethane wheels, Integrated lid stay, Integrated panel mounts for easy installation of electronic equipment.
Which are the competitive advantages of your products?
Offering a choice of 10 different colours, in-house custom logo printing, foam interior production, panel plate installation, 24hrs shipping.
Can you share some information about the R&D and Certification procedures that make your products so competitive?
NANUK is certified according to the following standards:
- ATA Specification 300 Category 1 Impact
- ASTM D-4169 DC-18 Drop
- ASTM D-4169 DC-18 Vibration
- ASTM D-4169 DC-18 Rainfall
- MIL-STD-810F Immersion
- IP 67 Ingress protection
Can you name a few of your main customers?
Glock GmbH, Colt-CZ Group, AIRBUS Aerospace.
Which are the next steps and priorities of your company?
Increase our EMEA distributor network as well as connecting to main defence industry suppliers and MOD.
Is there anything else that you would like to add?
As Nanuk we prioritize our customer relationship. Together building a sustainable long term and environmentally responsible cooperation.
For additional information: www.epicos.com/company/752203/nanuk-eu-bv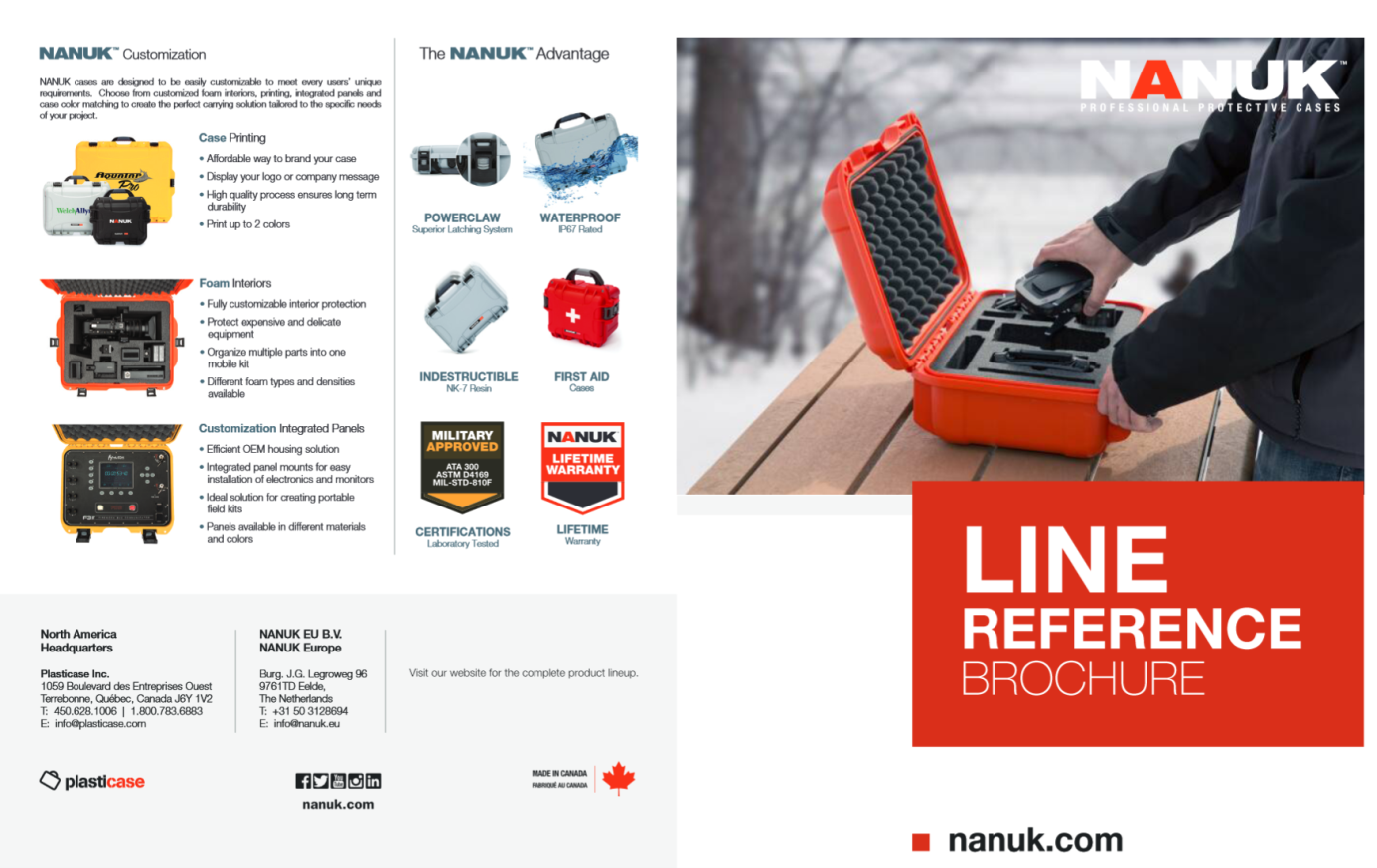 View source version on NANUK Europe:
https://nanuk.eu/