Mar 20, 2023
Meeting under the Deputy Minister of National Defence, Nikolaos Hardalias, for the International Defence and Security Exhibition "DEFEA 2023"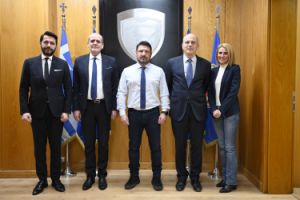 March 20, 2023 - A working meeting led by the Deputy Minister of National Defence Mr. Nikolaos Hardalias with executives of the exhibition organization company ROTA SA took place on Friday, March 17, 2023, at the Ministry of National Defence on the subject of the International Defence and Security Exhibition "DEFEA 2023 - Defence Exhibition Athens", which will take place from 9 to 11 May 2023, in Athens.
The meeting was attended by:
• From the ROTA SA, the Chairman of the Board Mr. Georgios Tsausoglou, the CEO Mr. Alexis Lagoudakis and the Director of the "DEFEA 2023" Exhibition Mr. Vassilios Barkas.
• The Directors of the Executive Office Mrs. Eleni Bobou and of the Military Office Captain Georgios Zouros HN, as well as competent Staff of the Office of the Deputy Minister of National Defence.
Organizational actions and action planning were discussed regarding the holding of the second DEFEA, in which, currently, 350 leading defence companies from 27 countries have registered to participate, either with national stands or as independent entries. Specifically, exhibitors with:
• National stands from the countries of Armenia, Austria, France, Germany, United Arab Emirates, United States of America, India, Israel, Italy, China, Cyprus, Netherlands, Portugal, Slovakia and the Czech Republic, as well as the European Commission with the Directorate General for Defense Industry & Space (DG DEFIS).
• Independent entries from England, Bulgaria, Belgium, Denmark, Greece, Japan, Croatia, Norway, Poland, Romania and Sweden.
• The Ministry of National Defence and the Hellenic National Defense General Staff (HNDGS) with their own stands.
In 2021, the organization of the first DEFEA was particularly successful, with the participation of 315 exhibitors from 22 countries and the presence of 45 official national delegations, at a particularly high political and military level. This year the expectations are even higher. With the cooperation of the Association of Hellenic Manufacturers of Defence Material (SEKPY), which represents over 150 certified Greek companies active in the field of Defence, and the valuable patronage and assistance of the Ministry of Defence, DEFEA will once again present an exhibition worthy of the history of defence exhibitions of the country and the importance of its geopolitical position.
As part of the work of the Exhibition, which aims to be the point of reference for the region of South-Eastern Europe and the Eastern Mediterranean, events and workshops will be organized in the field of the defence industry, initially highlighting the Greek defence industry but also European and NATO initiatives, such as the European Defence Fund (EDF CrossProject Conference) and NATO defence innovation initiatives, such as the Defence Innovation Accelerator for the North Atlantic (DIANA) and the NATO Innovation Fund.
Furthermore, parallel actions will take place on special and extremely timely issues such as The Future of Firefighting: Impact on Life, Environment, Economy, Best Practices for Innovative Border Management Solutions (Piloting, Validation and Best Practices of Innovative Border Management Solutions) and Critical Infrastructure Protection. "DEFEA 20223" is also under the auspices of the Ministry of Civil Protection and the Ministry of Maritime Affairs & Insular Policy and the support of the Hellenic Aerospace Security & Defense Industries Group (HASDIG) and the Hellenic Association of Space Industry (HASI)