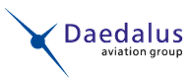 Categories
Aircraft, Helicopter, UAV, Spacecraft & related equipment
Maintenance Repair Overhaul and Logistics Support
Daedalus, with its headquarters in Tilburg, was established in 1993 and has been continuously involved in the F-16 MRO sector worldwide. The company is primarily focused on the delivery of on-site support by technical field teams for F-16 operational, intermediate and depot level maintenance, modifications and upgrade programs. Its flexible workforce is fully qualified and certified to work on the F-16 weapon platform and has all the required security clearances. The office is fully controlled and certified by the Intelligence Industrial Branch of the Dutch Ministry of Defense and ISO 9001:2008 (plus AQAP 2120) qualified. Currently Daedalus has a workforce of approximately 100 specialists in various trades, such as sheet metal, avionics, systems and engines. A large percentage of its workforce has more than 20 years experience in the F-16 MRO business.
Daedalus track record includes involvement in almost all maintenance & modification programs of the RNLAF, such as FALCON UP / PACER SLIP, MLU, FALCON STAR / PACER AMSTEL, as well as Line maintenance and Phase inspections (200/300 hours). In addition Daedalus has performed the FALCON UP program for the Indonesian Air Force (in-country) and is currently performing the FALCON STAR / PACER AMSTEL modifications for the Chilean Air Force. Furthermore Daedalus is providing line- and phase maintenance support for the Norwegian Air force on their F-16 bases.
Through its joint venture with IEI Inc., an Elbit Systems of America subsidiary, Daedalus can deliver intermediate and depot level support for F-16 Avionics and other electronic- and electrical components. Specifically for the repair of the F-16 Fatigue Analysis & Combat Evaluation (FACE) system and the Color Multi Function Displays (CMFDs) Daedalus has its own repair shop in Tilburg. Through its strategic relationship with the RNLAF depot maintenance organization in Woensdrecht (LCW) all other depot level support can be delivered.
One-Stop Shop Concept
Daedalus offers its customers a so-called "one-stop shop" concept. Through this approach the customer can choose from a wide (almost complete) variety of aviation support services, ranging from assistance with technical personnel and provision of on-the-job training to full execution of projects or outsourcing of work packages. All related activities, personnel and equipment, including program management and work planning, will be fully integrated and coordinated by Daedalus and its involved partners.
For the customer this does not only mean that they will have just one point of contact, but also that Daedalus will take care of the integrationprocess and all involved communication saving the customer time and energy. Futhermore, this synergy will save money since the cost of a fully integrated support package will be lower than the sum of all individual elements.
Office Locations
The Netherlands
Tilburg: Daedalus Main Office
Tilburg: Daedalus Avionics office (joint venture with IEI)
Tilburg: Avionics Repair Shop
Woensdrecht Air Base: Support office for Chilean Air Force
United States
Clearfield Utah (just outside Hill AFB): US Administration Office
Chile
Santiago, FACh Logistic Command: F-16 support Program Office
Antofagasta, Cerro Moreno Air Base: Pacer Amstel (Falcon STAR) Program Office
Royal Netherlands Air Force
F-16 MLU modification
F-16 Falcon STAR modification
F-16 Sales Support
Depot level maintenance on F-16, Chinook, Cougar and Apache
On-site O-level and I-level support (F-16, Chinook, Cougar, Apache)
On-site phase inspection support (F-16, Chinook, Cougar, Apache)
On-site component maintenance (F-16)
Fuerza Aerea de Chile – Chilean Air Force (FACh)
F-16 weapon system management setup
Logistic support
Spare parts provisioning
F-16 Falcon STAR modification
Indonesian Air Force
F-16 Falcon UP modification
Norwegian Air Force
On-site O-level and I-level support (F-16)
On-site phase inspection support (F-16)
On-site component maintenance (F-16)
Daedalus Aviation Group
Ericssonstraat 2, 5121 ML Rijen, Tilburg, The Netherlands
+31 13 467 83 95
+31 13 463 58 87
office@daedalus.nl