Last Update
June 24, 2022

Categories
Mechanical, Electro-mechanical, Hydraulic and Pneumatic components
Metal Processing, Parts & Components
Military, Tactical, Logistic Support Vehicles & related equipment
Training & Simulation
Weapons & Ammunition
Van Halteren Technologies has extensive engineering capabilities specialized in drive and control technology. This means all current products or previous delivered projects can be tailored to any specific client configuration. Furthermore, Van Halteren Technologies has longstanding experience in conducting engineering studies for and with various industrial clients, governments, research facilities and universities.
INDUSTRIES
Defence
Van Halteren Technologies supplies high quality products and services for clients from the international defence market, including governments and Original Equipment Manufacturers.
Naval
Based on the experience gained during many naval projects, Van Halteren Technologies has developed high-quality technological components, packages and solutions for submarines and naval surface vessels, such as frigates and minehunters.
Marine & Offshore
Van Halteren Technologies is one of the leading suppliers of drive & control, simulation and visual recognition technology for the marine & offshore market. For almost 70 years we supply drive and control technologies in the offshore industry. Worldwide customized offshore systems and products have been successfully installed. Concentrating on delivering the best custom fit solutions, whether components delivery, customized systems or project implementation. Van Halteren Technologies is the right partner with the most comprehensive portfolio.
Flight & Drive Simulation
In motion simulation, Van Halteren Technologies offers electrically driven 3DOF and 6DOF motion platforms as well as XY table solutions. The 6DOF platforms, eMotion-1500, eMotion-2700, eMotion-6000, eMotion-9500 and eMotion-14000 are designed for today's middle and high payload range in the electric driven motion systems product line. The hydraulic 3DOF platforms, cMotion-16500 and cMotion-33000, are used for Cabin Emergency Evacuation Trainers (CEET's). The proven in-practice design is a synergy of our Drive and Control skills and profound application knowledge.
Energy & Power Management
We are currently experiencing paradigm shifts that are both economic and social fueled, above all by the continuing tangible climate change. The enormous associated challenges can only be met by venturing off the beaten path and pursuing approaches marked by creativity and responsibility. With our innovations we shape the future of business, society, and technology.
Civil Engineering & Infrastructure
Robust, powerful, and low-maintenance solutions
All civil engineering projects have one thing in common: They require extremely robust, powerful, and low-maintenance automation solutions.
To build structures to last for centuries, and to operate them with ultimate availability for decades: Clients, designers and operators of civil engineering projects think long-term.
Products, Solutions and Turn Key Projects
Van Halteren Technologies offers you a globally unique and complete product portfolio. Furthermore you get application-related products of highest quality and with field-proven solutions. We clarify all interfaces, and in our system solutions we match components perfectly to each other.
Hydraulics, Cylinders & Power Units
Van Halteren Technologies, formerly known as Hydraudyne, builds on years of experience in hydraulics. From deep knowledge engineering to in-house production facilities. Therefore the best performing cylinders and power units are helping customers for many years all over the globe.
Advanced Mechanical Subcontracting
Van Halteren Technologies offers various jobbing activities. It has a wide range of machinery that can be used for but is not limited to:
Coating technology
Honing, Structuring & Polishing
Turning, Drilling & Milling
Welding
Assembly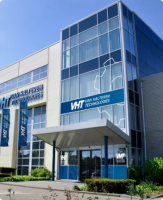 Van Halteren Technologies
De Kronkels 27, 3752 LM, Bunschoten, The Netherlands
+31(0)33 2992300
info@vanhalteren.com