Last Update
February 22, 2022
Categories
Aircraft, Helicopter, UAV, Spacecraft & related equipment
Electrical, Electronics & Electro-optics
Maintenance Repair Overhaul and Logistics Support
Mechanical, Electro-mechanical, Hydraulic and Pneumatic components
Metal Processing, Parts & Components
Services (R&D, training, engineering, consultancy, …)
AERO Vodochody AEROSPACE a.s., is the largest aerospace manufacturer in the Czech Republic, mainly focusing on cooperation with leading aerospace manufacturers in international aerostructures projects – Sikorsky Aircraft Corporation (S-76C helicopter), Alenia Aeronautica (C-27J Spartan center wing box), Sonaca (Bombardier CSeries Fixed Leading Edge Development & Production), Latecoere (Embraer 170/190 subassemblies), Saab (JAS-39 Gripen pylons), Spirit Aerosystems (B767 fixed leading edge kits), EADS (A320/340 subassemblies), etc.
The Military Program of Aero is historically the largest producer of jet training aircraft and a partner to several air forces, particularly the Czech Air Force. This year, Aero celebrates 90 years since its foundation and thus ranks among the oldest aerospace manufacturers in the world.
AERO Vodochody AEROSPACE a.s., has two main business units:
Aerostructures Program
o Well-established cooperation with leading aerospace manufacturers
o Complex deliveries of aviation technology with high degree of product finalization

Military Program
o L-159 Combat & Training System
o L-39/L-59 Sustainment Programs
Contact info #1
Business Developement Manager
U Letiste 374, 250 70 Odolena Voda, Czech Republic
L-159 COMBAT & TRAINING SYSTEM
The L-159 Combat & Training System includes the L-159 advanced training and light combat aircraft, integrated logistic support, mission planning and debriefing and ground based training system.
L-159 is a family of advanced training and light combat aircraft, which mates Aero's long-term experience in development and production of military jet aircraft, in the category of which Aero represents historically the largest producer in the world, with latest advances in avionic, engine and aircraft systems technology.
L-159 Advanced Light Combat Aircraft
The single-seat L-159 is a light multi-role combat aircraft designed for a variety of air-to-air, air-to-ground and reconnaissance missions.
The aircraft is equipped with a state-of-the-art multi-mode radar for all-weather, day and night operations and can carry a wide range of NATO standards stores including air-to-air and air-to-ground missiles and laser guided bombs.
L-159 Main Features:
Common airframe configuration and aircraft systems
Multi-mode Pulse Doppler Radar (single-seat L-159) and provisions for optional nose-mounted sensors (two-seat L-159)
Advanced Human Machine Interface with Head-Up Display, color Multi-Function Displays and Hands-On-Throttle-And-Stick (HOTAS) controls
Avionics integration based on the MIL-STD-1553 databus
Accurate and autonomous navigation system with Ring Laser Gyro based Inertial Navigation System (INS) and Global Positioning System (GPS)
Extensive in-flight recording and debriefing capability for video, audio, self-protection system, engine and aircraft parameters
On-condition maintenance and fatigue monitoring system for low operational cost and optimum use of aircraft service life
On-Board Oxygen Generating System (OBOGS), On-Board Inert Gas Generating System (OBIGGS) and Auxiliary Power Unit (APU) for self-contained operations with minimum support
Seven pylons for various stores
Ability to operate from semi-prepared airfields
"Best in Class" Honeywell F124-GA-100 engine
Self-protection system installation and use of redundant systems for high level of survivability and flight safety
L-159 Advanced Training Aircraft
The two-seat L-159 is a derivate of the single-seat L-159, primarily designed for Advanced and Operational/Lead-In Fighter Training. The L-159 configuration can also be tailored to customer specific requirements and adapted to needs of basic training as well as combat missions including air-to-ground, patrol and reconnaissance missions.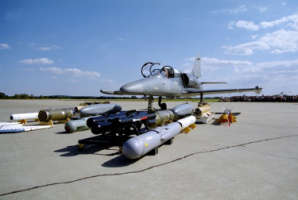 INSTALLATION OF DYNAMIC PARTS FOR S-76 HELICOPTER
Aero produces the complete S-76 helicopter ready for installation of dynamic parts for Sikorsky Aircraft Corporation since 2000. In April 2008, Aero delivered its jubilee 200th S-76 helicopter, version C. High quality and reliability of deliveries from Aero contribute to the high demand for the S-76 helicopter.
Production and Services:
Fully assembled and equipped helicopter ready for installation of dynamic parts
Avionics, hydraulic, electric and fuel system installation
Tube manufacture and tube system installation
Electric wire harness manufacture and installation
Composites assembly
Fuselage assembly
Detail part fabrication, including aplication of special processes (8,500 components assembled, 3,700 produced by Aero)
All ground tests not requiring dynamic parts, including water, fuel, hydraulic and electric tests
All surfaces primed
Supply chain management of more than 200 suppliers
After-sales services, including repairs and spare parts sale
Consignment stock at the customer

Dynamic parts and systems (engine, gear box, rotor) are subsequently installed at Sikorsky Aircraft Corporation, where ground and flight tests are also conducted and the exterior and interior of the helicopter are finalized in accordance with individual requirements of customers.
WING FIXED LEADING EDGES
AERO signed at the Air-Show in Paris in June 2009 its historically first contract on international risk-share project with Belgium company SONACA.
The subject of cooperation between SONACA and AERO is to design, develop and manufacture the Wing Fixed Leading Edges for a new and innovative CSeries Aircraft for the Canadian aerospace manufacturer Bombardier. Customer is North Ireland company Shorts, subsidiary of Bombardier.
SONACA is primarily responsible for the entire development of wing leading edge and subsequent manufacturing of movable parts of leading edge. AERO is within the work-share responsible for design, development and subsequent manufacturing of wing fixed leading edge.
AERO will be under supervision of SONACA utilizing the transfer of "know-how" of this company, which has many years of experience with engineering and development of wing leading edges.
AERO will be a member of a close SONACA-AERO realization team and it will simultaneously participate in Joint Development Team, which will be led by the Prime, Bombardier Aerospace, specifically the Shorts in Belfast, responsible for the aircraft wing section.
PYLONS FOR JAS-39 GRIPEN AIRCRAFT
In October 2008, Aero and its Swedish customer, SAAB, signed a contract on deliveries of three types of pylons for JAS-39 Gripen aircraft. Within twelve months has Aero raised its production, qualified all special procedures and produced first parts. These parts have been during FAI accepted by SAAB and delivered. At the time being Aero delivers according to delivery schedule 8 Pylons per month. Deliveries will be closed in January 2011.
Production and Services:
Fully assembled pylons ready for installation on aircraft
Detail part fabrication, including application of special processes
Electric harnesses manufacture and testing
Composites assembly
Tube manufacture and installation
Supply chain management
Spare parts delivery
COCPIT FOR UH-60M Black Hawk
In January 2010, AERO Vodochody and its long-term partner Sikorsky Aircraft Corporation signed a contract for manufacturing of a cockpit for the UH-60M Black Hawk helicopter. Since the signature of the contract, Aero has been working on establishing a chain of suppliers, preparation and implementation of fabrication of parts, electric harnesses, subassemblies, and final assembly. The Program is specific for its short time for implementing the production. The first cockpits shall be supplied by Aero to its customer in 2011.
Production and Services:
Fully assembled cockpit of the UH-60M Black Hawk helicopter
Installation of electric harnesses and control systems
Provision of spare parts
Assembling composite parts
Control of the supplier chain
Fabrication of parts, including application of special processes
CENTER WING BOX FOR ALENIA AERMACCHI
Aero participates on the production of the C-27J Spartan military transport aircraft since 2006. For its Italian customer, Alenia Aermacchi, Aero produces the complete center wing box ready for installation on the aircraft.
Production and Services:
Fully assembled and equipped Center Wing Box assembly ready for installation on aircraft
Integral fuel tanks, including final fuel leakage test
Engine, fuselage and wing flap hinges
Manufacturing of all parts, including application of special processes
Manufacturing of electric harnesses, including testing
Installation and testing of all systems
Surface protection by the application of paint and anti-corrosion protection
Supply chain management
Production management of different configurations
Warranty and after-sales repairs and services
Spare parts delivery
Repairs, modification changes and upgrades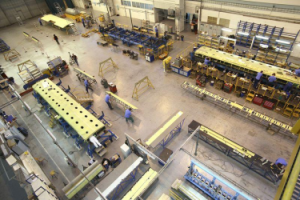 DOOR SUBASSEMBLIES FOR LATECOERE
Aero participates on the production of the Embraer 170/190 aircraft since 2007. For its French customer, Latecoere, Aero delivers hinges and inner structures of doors. The assembly line was completed in July 2008.
Transfer of complete production, including detail part fabrication, is to be completed in Aero in the second half of 2009. Technometra Radotín, 100% daughter company of Aero, participates in the Program, fabricating all machined parts.
ENGINEERING
ENGINEERING CORE ACTIVITIES
Aerostructures Program
All the company programs are supported by Engineering
Desin change traffic (CIB,CAB), Cost reduction initiatives, Production implementation
Participation on risk-sharing projects

Military Program
Engineering supports the Czech Air Force and the fleet all around the world
Upgrades, redesign, obsolescence program, integrated logistic support, maintenance and overhuls

Conceptual Design
Conceptual studies
Innovation of existing products
Introduction of new products
Introduction of innovative technologies and processes

ANALYSES
Structural Integrity
Stress and strain analyses
Support and definition of structural durability and static full scale tests
Support of definition of flight tests
Evaluation of tests
Fatigue analyses
Damage tolerance analyses (crack growth rate, residual strength analyses)
Reliability – safety and dependability analyses, hazard analyses and fault tree analyses, reliability tracking (customer support)

Structural Integrity - Tools
MSC/Nastran/Patran/Marc, nSoft
In-house software for loads, weight and balance, fatigue

Aeroelasticity
Flutter analysis
Vibration and dynamic response analysis

Aeroelasticity - Software Tools
MSC/Nastran for flutter analysis
I-DEAS for vibration and dynamic response analysis

Aerodynamics
Performance
Flight characteristics
Flight limitation data
Aerodynamic loads
Internal aircraft aerodynamic problems

Aerodynamics - Software Tools
Data Sheets, DATCOM and AAA software for fast aerodynamics analysis
FLUENT - software package for detail flow field analysis
MATLAB - software package for flight mechanics problem analyses

AIRFRAME AND SYSTEM DESIGN
Software Tools
CAD/CAM
UNIGRAPHICS NX2
CATIA V4 & V5
AutoCAD

Airframe
Capabilities:

Airframe design
Installation of aircraft systems

Reference projects:

L-39, L-59, L-159, Ae 270 – full airframe & systems installation design & testing
EV-55 – horizontal empennage, elevator, ailerons, landing gear and systems design cooperation (hydraulics, avionics)
Avionics
Capabilities:

Design and integration of avionics systems for military and civil aircraft in partnership with avionics suppliers

Reference projects:

L-59E – military avionics in cooperation with CMC Electronics
L-39ZA/ART - military avionics in cooperation with Elbit
L-159 - military avionics in cooperation with Boeing and SPEEL
Ae 270 – commercial avionics in cooperation with Chelton and UNIS
Electrical Systems
Capabilities:

Electrical power generating system integration
Design of electrical power distribution
Internal and external lighting

Reference projects:

L-159 full electrical system design and testing (including generators, inverters,..)
L-159 NVG compatible lighting
Ae 270 full electrical system design and testing

Airframe Systems
Capabilities:

Integration of aircraft utility systems (landing gear, flight control system, hydraulic and pneumatic system, armament, escape system, etc.)

Reference projects:

L-159, Ae 270 systems – complete development and testing
L-159 digitally controlled fuel system – development in cooperation with Czech industry
VS-2 "zero height – zero speed" ejection seat – development in cooperation with Czech industry, modernization program under development

Engine Systems
Capabilities:

Engine installation and integration with the airframe
Auxiliary power unit installation and integration
Design of oxygen, anti-g, de-icing and environmental control systems

Reference projects:

DV-2 turbofan engine integration
Honeywell TFE731 turbofan engine integration
Honeywell F124 turbofan engine integration
Pratt & Whitney Canada PT6 turboprop engine integration
Saphir 5 APU integration
OBOGS integration

COMPOSITES
Capabilities:
Technology development
Hand lay-up and autoclave curing
Assembly
Inspection and Testing

FLIGHT & GROUND TESTS
Flight and ground testing of military aircraft and aircraft of general aviation:

Testing of aircraft structures and aircraft systems
Power plant tests
Strength and vibration tests
Special testing of avionics and electrical equipment
Performance and handling tests

Tests of weapon systems:

Stores carriage and release testing
Aircraft handling with stores
Engine and weapon compatibility tests
Weapon accuracy testing

LOGISTIC SUPPORT
Logistic analysis according to military standards
Database system, enabling to generate output reports according to customer requirements
Creation of electronic documentation according to S 1000D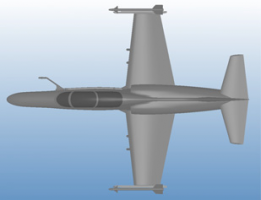 MACHINING
Turning
Classical (max. Ø 200 mm, length 1200 mm)
NC a CNC universal (max. Ø 190 mm, length 750 mm)
Milling
Horizontal, vertical, tool, copy
Classical (max. table size 1600 x 300 mm)
NC and CNC
2 axis (table 1500 x 1500 mm)
3 axis (x=1260 mm, y=580 mm, z=500 mm)
5 axis (x=6000 mm, y=2500 mm, z=1500 mm) Aluminium alloys, composites
5 axis (x=2000 mm, y=1000 mm, z=650 mm) Steel
Control systems SINUMERIC, HEIDENHAIN and SIEMENS
Vacuum clamping of work-pieces to the milling center tables
Drilling, Boring, Reaming
Technology - horizontal and vertical
Machines - classical (max. operating space x=1300 mm, y=1260 mm, z=1200 mm)
NC and CNC (x=1250 mm, y=1120 mm, z=940 mm)
Control system HEIDENHAIN
Grinding
Cylindrical (max. Ø 250 mm, 1000 mm between centers)
Cutouts (Ø 6-50 mm, depth 60 mm)
Slab (Table size width=300 mm, length=1500 mm)
Centerless (Ø 3-25 mm, length = 180 mm)
Tool sharpening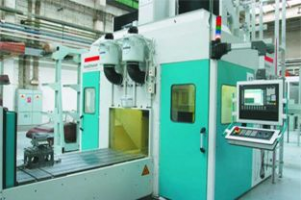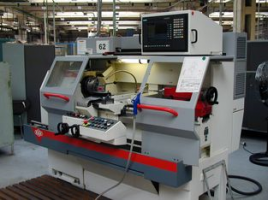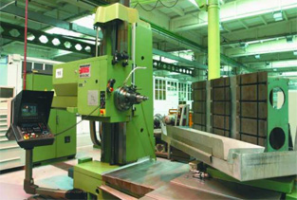 SHEET METAL FORMING
Pressing
Eccentric press (10, 20, and 40 t)
Break press - classical (max. width 3500 mm, max. thickness 4 mm)
CNC (max. width 2050 mm, max. thickness 2 mm)
Hydraulic press ASEA (2 tables), table dimensions 3800x900x150 mm, max. 100 MPa
Extrusion forming (max. 25 t, profile length 1000-6000 mm)
Extrusion joggling (max. thickness 3 mm, max. profile dimensions 30 x 30 mm)
Forming
Rolling (max. length 3500 mm, max. thickness 2.5 mm – Al alloys)
Hydraulic press (630 t, 2120x1800 mm, max. travel 900 mm)
Tube swaging (max. Ø 50 mm, length 120-2000 mm)
Transversal stretch forming (130 t, max. dimensions W=2000 mm, L=1500 mm)
Longitudinal stretch forming (100 t cylinder, 200 t table, max. dimensions 2000x5500 mm)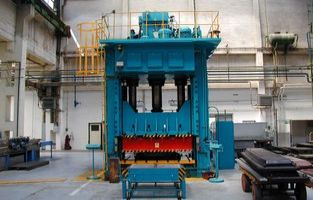 HEAT TREATMENT
Heat treat, annealing, tempering, aging, hardening:
Steel

Isothermic (bath dimensions 1000x800x1500 mm, 400°C/752°F)
Vacuum (bath dimensions Ø 600x1000 mm, 1350°C/24

Aluminum alloys

Salt bath (bath dimensions 7000 x 1200 x 2400 mm)
Air shaft (shaft dimensions Ø 800 x 1800 mm)
Freezing:
Steel (operating space 1350x850x600 mm, temperature from -80°C to +20°C)
Al alloys (operating space 3000x850x600 mm, temperature from -25°C to +20°C)
SURFACE TREATMENT AND PAINTING
Al alloys (w=3800 mm, h=2200 mm, d=800 mm):
Chromic Acid Anodizing
Sulphuric Acid Anodizing
Conversion Coating (Alodine)
Steel (w=1000, h=700, d=1000):
Passivation of stainless steel, copper
Zinc plating
Nickel plating
Cadmium plating
Tin plating
Phosphatizing
Browning
Silver plating
Copper plating
Basic and top coats of parts and subassemblies
TOOL DESIGN & MANUFACTURING
Forming tools
Manual bending, trim and drill fixtures
Assembly jigs
Installation fixtures, platforms, stairs
Storage equipment
Electric testing equipment
Jigs/fixtures for production and tests of electric harnesses
Mathematic modelling (UGS NX, CATIA V5)
Gauges, models, etalons
Inspection tools
Test jigs/fixtures for hydraulic and pneumatic systems
Tools for composite parts
Digitizing mylars
AIRFRAME ASSEMBLY
Riveted airframe assemblies and subassemblies
Mechanical systems installations
Electronic and avionics systems installations
Control and operating tests of individual systems and aircraft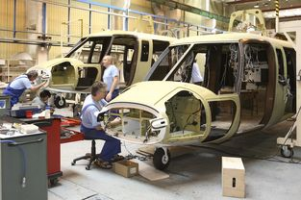 AIRCRAFT PAINTING
Complex modernization completed in 2005 - length 24 m, width 18 m, height 5.6 m
ISO 9001 certified
Custom designs according to your wish
Quality paint and chemicals supplied by renowned manufacturers
Choice of metallic or nonmetallic paint
Chemical and mechanical paint stripping
Experienced personnel
2.5 km runway
OTHER
NC Bending, Measuring and Tube Finalizing
Bender (Ø 42x2,5)
ROMER measuring center
Tube finalizing (Type 1,2,9)
Wire Harnesses
Laser marking and cable cutting
Automatic testing:

2000 testing points
6000 testing points
Material Cutting
Water jet cutting (2 axis, max. semi-product 200x2000x4000 mm)
Mechanical Hardening
Al alloys (ceramic balls, max. dimensions 1000x1000x1000 mm)
Welding
Flame welding (steel, Al alloys)
Argon shielded arc welding (stainless steel, Al alloys)
Electric arc welding (stainless steel)
Spot welding (stainless steel, Al alloys)
Seam welding (stainless steel, Al alloys)
Part Marking
Pneumatic center punching
Ink
Constructions and Shelves
Chemical Milling
AERO Vodochody AEROSPACE a.s.
U Letiste 374, 250 70, Odolena Voda, Czechia
+420 255 762 542
+420 255 763 150 
info@aero.cz