Last Update
September 7, 2016
Categories
Aircraft, Helicopter, UAV, Spacecraft & related equipment
Electrical, Electronics & Electro-optics
IT, Computing and Software
Maintenance Repair Overhaul and Logistics Support
Radar, Sonar, Navigation, Targeting, Surveillance
Services (R&D, training, engineering, consultancy, …)
SPEEL PRAHA, Ltd., is one of the leading developers and manufacturers of flight data recorders, aircraft monitoring systems, ground evaluation equipment, a whole software package for data evaluation in central and eastern Europe. The latest techniques in production, quality assurance as well as combined know how of both original "Eastern" and most modern "Western" technologies guarantee the high reliability and safety standards compliance of the company's products.
Beside its activities in avionics, SPEEL also manufactures Electronic Tachographs for subway and rail vehicles. Currently SPEEL supplies the entire subway in Prague.
SPEEL is an ISO 9001 registered company, and holds the Civil Aviation Authority (Czech UCL) production approval of electronic aeronautical products.
More than 3 decades of experience in avionics and aircraft diagnostics are invested in our products and services. In 1960 the company, then part of the aeronautical and research institute-Prague, started up with the development of mobile automatic test equipment for the famous L39 jet trainers manufactured in the Czech Republic. The equipment was in series production till 1988. Since the beginning of the 90s, the company has been developing and producing a range of solid-state flight data recorders with crash-protected memory unit for rotary- and fixed- wing aircraft. Today, SPEEL is a growing company which utilizes state-of-the-art technology in its product line OF FDRs/CVRs, aircraft monitoring systems, PANDA Software Package, as well as a complete ground support equipment for flight data replay and analysis.
SPEEL's products are built to meet demanding Western standards. As such they can easily interface with western avionics (Mil-Std-1553, Arin429, etc.) onboard modern aircraft. Below is a non-exhaustive list of international standards SPEEL builds its products into:
EUROCAE ED-55/56a
TSO-C124/123, TSO-C51a
MIL-STD-810C/D/E
MIL-STD-461D/462D
MIL-STD-1553B
ARINC 429
MIL-STD-704E
MIL-PRF-28800F
DO-187B
As a mid-sized company, with highly qualified engineers covering all the areas mechanical drafting and machining, to electronics design and manufacturing, and all the way to firmware/software development, SPEEL offers its customers flexibility and promptness in solving specific problems, possibility of small series production of developed devices, high technical level of development and production, including software, commercial reliability, experience with international cooperation, and last but not least competitive prices. The company ensures warranty and post-warranty service for all delivered devices and software.
Contact info #1
larbi.ouchelouche@speel.cz
Beranovych 130, Praha 9, Letnany 199 05, Prague, Czech Republic
AIRBORNE MONITORING SYSTEMS
AIRBORN MONITORING SYSTEMS "AMOS"
Airborne data server (AMOS) by SPEEL PRAHA Ltd. company is designed to:
Gather, process, and record information about airborne systems of the light combat aircraft L159 with the goal to offer the pilot information about the instant aircraft situation including warnings when the limit values are reached
Watch and monitor the load on the airframe in the long term
Record data for air crash evaluation
Watch and monitor the health state of the pilot
The AMOS system consists of the following two parts:
- FDAU159CAF unit for reading data
- FSP159CAF functional signal panel
- CMU159CAF crash data recorder
Ground units that are designed to maintain AMOS system and ensures:
- Testing of the AMOS system state
- Calibration of the AMOS system
- Transfer and evaluation of the AMOS system data
AIRBORNE DATA SERVER "AMOS-B"
Airborne data server (AMOS-B) by SPEEL PRAHA Ltd. company is designed to:
Gather, process, and record information about selected airborne systems of the two-seat jet aircraft L159B with the goal to offer the pilot information about the instant aircraft situation including warnings when the limit values are reached
Watch and monitor the load on the airframe in the long term
Record and protect the data designed to evaluate the air crashes
Watch and monitor the health state of the pilot
Guide the operator (i.e. the pilot or an engineer) during a preflight preparation of the aircraft using the sequence of defined tasks
Display a help during evaluation of critical events like tools for effective usage of the data recorded during the pilot's training
AIRCRAFT MONITORING SYSTEM "PMS 39"
PMS39 consists of:
- Central measuring and control unit MU39 for data collecting and processing
- Crash data recorder with protected solid-state service and back-up memory ZJ39 where records are written to both memories simultaneously
- PMS system testing
- Calibration of sensors of physical quantities on the aircraft
- The PANDA program system with corresponding configuration of GEE and GSU is designed for monitoring and evaluation of registered PMS flight parameters from the ZJ39 record unit
- It is possible to read data from ZJ39 either directly to GSU (interface RS-232C) or using the PMU-F (interface RS-422) portable memory unit without dismounting ZJ39
- Harmonic analysis of aircraft engine vibrations
FLIGHT DATA RECORDERS
FDR59A
FDR59B-AN
FDR39H/HG/HGM
FDR39HL/HLG
FDR39TM-E/TMG
FDR59B-H/B-L
ZJ39
CMU159CAF
CVFDR
CARE
GROUND DEVICES
DMU
PMU TURBO
GEE
CRRU
GSU
MDAW 159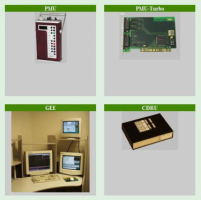 PANDA SOFTWARE SET
Software set PANDA (Prostredky ANalyzy DAt) is an universal evaluation system designed to process, evaluate, and analyse data records from the following flight data recorders, monitoring systems and portable memory units:
FDR recorders

TESTER recorders

BUR recorders

PARES recorders

PMS monitoring systems

AMOS monitoring systems

PMU portable memory units

other flight data recorders
PANDA system is developed in these two versions:
DOS version for MS-DOS consists of SW59A software and TEST-L evaluation system. It is verified and well-established software system.

WINDOWS version for WINDOWS operating system.
The main characteristics of PANDA software:
Integrability - PANDA software guarantees the possibility to integrate all FDR recorders and many of other recorders which repeatedly send recorded data in blocks. This way, data from all types of recorders can be processed by one evaluation system. Another advantage is that the evaluation software works under one user environment (according to the used operating system) and the user does not have to master various evaluation software sets.

Modularity - PANDA software has modular character which means that consists of program modules which insure functionality of their parts of PANDA software set. The majority of modules could be used separately which increases the variability of the system

Extensibility - new program modules could be integrated into the PANDA (e.g. monitoring the service lifetime of an engine or an airframe). The new modul must fulfil all conventions used in the PANDA system.
The module listings corresponding to a choosen recorder or aircraft are presented at the page Configuration of PANDA modules.
The modules that use PANDA data files provides only SPEEL PRAHA Ltd. company on grounds of order.
PANDA software set is an universal evaluation system that makes possible to process, evaluate and analyse the data from flight data recorders and monitoring systems.
PANDA software set consisting of several program modules perform following basic functions:
Copy the data form flight data recorders (monitoring systems) and PMU into the ground workstation

Compute, store, and actualize calibration data used for translation analog values to physical quantity

Graphically display history of paremeters' values

Process data using the user defined analyses

Administer the PANDA databases

Back up and export data

View the aircraft silhouette in space

Display the flight trajectory

Display the flight trajectory over the map

Display the flight instruments
Software modules can be divided into three groups by the reference to the recorder:
Modules depending on the used recorder (e.g. LOAD, CALB)
Universal modules (e.g. EDIT, COMP, VIEW)
Special modules (e.g. FRAME)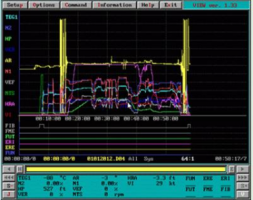 Speel Praha s.r.o.
Beranovych 130, Praha 9, Letnany 199 05, Prague, Czechia
+420 286 923 619
+420 286 923 721
info@speel.cz