Last Update
September 14, 2018

Categories
Aircraft, Helicopter, UAV, Spacecraft & related equipment
Electrical, Electronics & Electro-optics
Engines, Propulsion, Power Generation
IT, Computing and Software
Maintenance Repair Overhaul and Logistics Support
Radar, Sonar, Navigation, Targeting, Surveillance
Services (R&D, training, engineering, consultancy, …)
Safran S.A. is a French multinational aircraft engine, rocket engine, aerospace-component and security company. It was formed by a merger between the aircraft and rocket engine manufacturer and aerospace component manufacturer group SNECMA and the security company SAGEM in 2005. Its headquarters are located in Paris.
The Safran group is divided into three main branches:
AEROSPACE PROPULSION
The aerospace propulsion branch groups all operations concerning the propulsion of aeroplanes, helicopters, missiles, and launchers, for the civil aviation, military aviation, and space markets: design, production, marketing, testing, maintenance, repair, and overhaul (MRO).
AIRCRAFT EQUIPMENT
The aircraft equipment branch groups all design, production, sales, and support operations for systems and equipment used by civil and military airplanes and helicopters.
DEFENSE AND SECURITY
The defense security branch operates in the civil, military, and space markets, and covers the following areas: inertial guidance and navigation equipment (SIGMA INS based on ring laser gyro sensors), optronics systems and equipment, avionics systems, UAV systems, air-land systems and equipment, biometric identification systems, secure transaction terminals, and smart cards. On July 1, 2009, the European Union approved Safran's acquisition of 81 percent of the GE Security division which produces airport security systems and biometric identification systems.
Safran's biometrics products and technologies make up the "biometric data acquisition terminals, enrollment services, and processing software" used in Aadhaar, India's national identification number system and the largest biometric database in the world.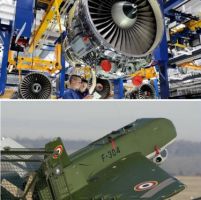 SAFRAN
2, boulevard du Général Martial Valin CS 51618, Paris, France
+33140608080
(33) 1 40 60 81 02