Last Update
September 7, 2016
Categories
Maintenance Repair Overhaul and Logistics Support
Mechanical, Electro-mechanical, Hydraulic and Pneumatic components
Metal Processing, Parts & Components
Military, Tactical, Logistic Support Vehicles & related equipment
Services (R&D, training, engineering, consultancy, …)
Tatra a.s., was founded in 1850 and ranks among the oldest automobile companies in the world. Since its start, the company has been based in Koprivnice, a town situated in the eastern part of the Czech Republic, in the Moravian-Silesian Region.
At present, the company's core product range consists of heavy duty off-road trucks and trucks for combined off-road and on-road transportation. At Tatra, upgrade and development of the trucks is a never ending and continuous process. An important asset to Tatra, not only in the area of development, but also production possibilities, is a high standard of human potential.
TATRA trucks are primarily based on a unique chassis concept which so far no one has managed to rival. Another great asset of the Koprivnice trucks is their high mobility on the most difficult terrains in extreme climate condition, and last but not least, their reliability. Tatra is a truck which can adapt to bitter cold Siberian frosts, but also to extremely high temperatures of the African Sahara.
The current truck range with its great variety can satisfy various customer needs. The range consists of four basic lines, which include TERRN°1 and JAMAL civilian lines and ARMAX and FORCE military lines. The category of TATRA military trucks has been widened with new special T815-7 military trucks. Also, a middle T810 truck is a new type.
Among established and significant sales territories of the company there are Russia, former CIS, India and Europe; of course, there is also the domestic market, where among the customers, the Army of the Czech Republic plays a predominant importance. Over the last years, also Australia has been among significant sales territories; new contacts have been found and are being established in Americas, too.
Excellent driving characteristics and many technical innovations of the TATRA trucks have been proved at the marathon rally tracks over many years. TATRA trucks have reached the most notable achievements in the well-known Dakar Rally, which is closely linked with the name of the TATRA truck driver Karel Loprais. His six victories still rank him among the most successful contestants of this rally. Also, Tomáš Tomecek regularly competes for the Dakar laurels. His biggest success so far in the colors of an independent team has been second place.
Contact info #1
Areal Tatry 1450/1, 742 21 Koprivnice, Czech Republic
REGULAR MAINTENANCE
Truck serviceability and reliability do not only depend on their good design tested in many hard tests and proved by long-run experience from the vehicles' operation in harsh conditions, but also on a due and regular maintenance of the vehicle. If you maintain TATRA trucks regularly, you will raise flawless and economical operation of the vehicle in hard operation, in which TATRA trucks are used. Quality and timely maintenance influences vehicles' reliability. By quality and timely we mean that it is carried out by trained staff in a workshop equipped with proper tools, jigs and aids, and particularly in regular intervals as given in the Operation and Maintenance Manual for a given vehicle type.
Why is regular maintenance necessary?
To increase durability and reliability of units, and thus of the entire vehicle

As prevention against potential defects
SERVICE
Truck quality, for a long period of time, has not meant just quality of the product itself, but its inseparable part has also been a well-running sales support including mainly good quality service network and fast availability of spare parts.

Thanks to one of the largest service networks of repair shops located in all continents, we can always rely on fast and professional service provided as repairs, service checks or maintenance of TATRA vehicles. dealer and service network

TATRA truck producer's high requirements, regarding contractual service repair shops, mainly with respect to assessment of their systems, equipment, use of special jigs and tools, regular training of individual service staff in their parent company or directly in a specific destination of TATRA truck sales and operation, represent required level of guarantee to all activities carried out.
To achieve our vehicle users' maximum satisfaction, we provide:
Stand-by emergency service
Provided by all contractual service partners

In case of urgency, emergency visit to the customer's site
Guarantee service
Regular service checks required for a specific vehicle type

Provided throughout the product guarantee period
After-guarantee service
Provided by authorized service repair shops

Possibilities to carry out overhauls of both units and entire vehicles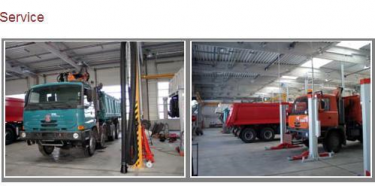 TRAINING
Our role is to arrange trainings and training events to meet service area needs.
We are ready to offer all TATRA contractual partners all the information available to service our products, as well as to carry out their service and maintenance. We are also ready to train their personnel to be at the professional level. Furthermore, we know how important it is not only to keep such level, but also to increase this level in terms of development of new technology methods and trends in the automotive industry. We, through our training, participate in the professional growth of their employees, technicians and service workers.
The current development of automotive technology automatically leads to adequate training needs, as well as to the costs related to that. The form of our special training, organized within our capacity, can partially meet such needs together with lower expenses.
We offer professional training for service staff which is focused on operation, maintenance, repairs and design of TATRA vehicles. Our training courses are conducted both for domestic and foreign workers directly in our Service School or, if requested and agreed, also at a specific destination site of TATRA vehicle operation.
Tatra a.s.
Areal Tatry 1450/1, ZIP Code 742 21, Koprivnice, Czechia
+420 556 491 111
+420 556 494 481
tatra@tatra.cz