Last Update
September 30, 2016
Categories
Electrical, Electronics & Electro-optics
IT, Computing and Software
Founded in 1980, AEROMAOZ is a multidisciplinary company, AS 9100, ISO 9001 and US Government QPL (AS7788) certified, developing, manufacturing and marketing ruggedized HMI and control system, illuminated panels and light solution for Commercial & Military applications.
Whether a simple bezel, a NVIS post light, a multi-functional display (MFD) bezel, or full night-vision cockpit conversions, AEROMAOZ products are being integrated with the equipment of organizations such as the USAF, US Navy, Israel Aerospace Industries, Boeing, Rockwell Collins, KAI and Elbit, to name a few.
Specialising in military and commercial applications, AEROMAOZ understands that the most important feature of any product is the operator's level of efficiency and comfort with that product. With this in mind, AEROMAOZ design and engineering teams analyse the market requirements and, combined with their expertise in human-machine interface engineering, produce the highest quality product with the highest level of reliability.
Contact info #1
Main Office Bldg.; Kibbutz Yavne 79233 Israel
Contact info #2
Main Office Bldg.; Kibbutz Yavne 79233 Israel
Contact info #3
Main Office Bldg.; Kibbutz Yavne 79233 Israel
Contact info #4
Main Office Bldg.; Kibbutz Yavne 79233 Israel
NVIS upgrades
NVIS compatibility is one of the most crucial issues facing helicopter and military aircraft pilots today. Crew members equipped with Night Vision Goggles must be able to read their instruments without interference and at the same time non-NVG crew members must be able to see the same instrumentation. External lighting is no less important, whether for covert missions or when flying in formation.
AEROMAOZ with its team of optical, electrical and mechanical engineers, designs, develops and produces NVIS compatible light elements to the highest degree of NVIS compatibility. Incorporating custom designed filtering solutions into each individual application, AEROMAOZ NVIS conversions eliminate the ghost images produced by canopy reflections, the halo-like glow around displays caused by goggle blooming and the degradation of sensitivity and resolution caused by the activation of the goggle automatic gain control.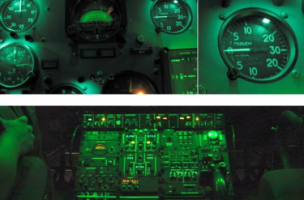 Services informational files
Design
AEROMAOZ has the capability to take a project from initial design and engineering stages, through prototype production and testing, final serial production, and in-house QC and environmental testing.
The AEROMAOZ engineering department is comprised of experts in photometry, optical electronics, design, human-machine interfacing, electrical and mechanical engineers. Even after engineering has finished its primary responsibility for a project, an AEROMAOZ engineer is assigned as liaison (project manager) to that project and accompanies it from prototype production through final testing and QC.
Manufacturing
Incorporating state of the art equipment with ongoing training programs, AEROMAOZ is able to produce the vast majority of its products in house. AEROMAOZ facilities include modern CNC equipment, isolated paint and soldering departments and precision engraving equipment. All production processes are conducted in a carefully controlled environment. Temperature, humidity and air filtration are continuously monitored to insure optimal environmental conditions.
Product assembly is done by hand by skilled workers under careful supervision and employees are trained and encouraged to point out potential QC issues before assembly is complete. Electrical, mechanical, optical, photoelectric and ESS testing are all carried out by experts in the corresponding fields. Testing is carried out on a 100% basis. As a result of the strict supervision during the production process, almost 100% of the units that do not pass testing will subsequently pass after minor adjustments.

Aeromaoz Ltd.
Main Office Bldg., 79233, Kibbutz Yavne, Israel
+972 3 6095003
+972 3 6095033
info@aeromaoz.com