Last Update
February 9, 2018
Categories
C4I, Communication Systems
Electrical, Electronics & Electro-optics
IT, Computing and Software
Services (R&D, training, engineering, consultancy, …)
Ceragon Networks AS, is one of the leading suppliers of wireless microwave transmission network solutions for market segments such as governments and defense; carriers and broadcast; ISP and enterprise; offshore and utilities; and mobile operators.
Ceragon's product portfolio covers every need in wireless transmission: PDH microwave radios, SDH access and Long Haul, multi-channel microwave radios, cutting edge PtMP last mile solutions including a leading WiMAX product line. The MultiService Provisioning Platform product line and comprehensive Network Management Systems complete Nera's unbeatable product range.
Ceragon Networks AS, is headquartered in Bergen, Norway, with regional offices in the Americas, Middle East, Africa and Asia. Ceragon Networks AS is a wholly owned subsidiary of Eltek ASA (www.eltek.com), listed on the Oslo Stock Exchange under [ELT].
Contact info #1
morten.jarodd@ceragon.com
P.O. Box 7090 N-5020, Bergen, Norway
TECHNICAL SUPPORT
Types of technical support On-site Support Scheduled on-site support Preventive maintenance Operation and maintenance assistance Emergency on-site support Network Management Remote Network Monitoring Local Network Monitoring Hardware Services Standard and Bulk Repair Services Advance Swap Replacement Service Spare Part Management Solutions Extended Warranty Software Services Annual Software Services for: NMS Embedded Software Single Software version upgrade.
SERVICE LEVEL AGREEMENTS
Ceragon offers an extensive range of service solutions to minimise operational costs and optimise network operation. A Service Level Agreement (SLA) is the perfect way to secure continuous support access while some support services are offered also as stand-alone services.
PLANNING & DESIGN
Network Design Philosophy Propagation DCN planning NMS design Transmission Hardware and Software Auxiliary systems Hardware and Software Installation planning Path survey Site survey.
INSTALLATION SERVICES
Professional network installation Ceragon Networks' ability to install profitable networks has its origin in several decades of experience and extensive field expertise. This is equally applicable for site infrastructure/civil works, as well as for site specific installation, testing and commissioning of equipment, and NMS (Network Management System).
INSTRUMENT SERVICES
Ceragon Networks Instrument Service carries out instrument calibration and repair, in addition to offering consultancy services and instrument rental. The Instrument Service was established in 1965, and it is now composed of two experienced Norwegian divisions: Electrical, optical and mechanical calibration in Bergen Electrical calibration in Billingstad outside of Oslo Instrument Service carries out traceable calibration of various parameters, including DC and AC voltage and current, resistance, inductance, capacitance, modulation and RF-effect and attenuation. Ceragon Networks Instrument Service offers traceability to national and international measurement laboratories.
EVOLUTION SERIES™ MICROWAVE RADIO PLATFORM
The Evolution Series™ is packed with features designed to secure the transmission of your mission critical traffic, as well as reducing the life-cycle cost of the equipment.
NETMASTER NETWORK MANAGEMENT SYSTEM (NMS)
NetMaster is the state-of-the-art management solution that provides both ease of use and attention to all details in your network operations.

Features:
Network-wide monitoring of faults
Network-wide collection of service quality data
Automated trend monitoring and notifications on quality violations
Automatic Network Element Discovery
Multiple network technologies managed on the same platform: Ethernet/IP, SDH, PDH, WiMAX
Network Topology with multiple Perspectives and Domains
Collection and presentation of data from external sources
Standard interface and integration to other OSS tools
Tools for analysis and presentation of status and trends
Library of standard and configurable reports
Centralized and automated NE maintenance: backup, restore and software update
System self-management tools
System upgrade and maintenance wizards
Easy and secure administration of user privileges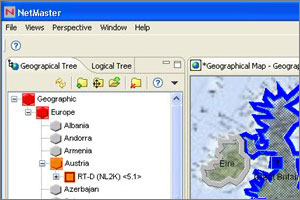 POINTLINK MICROWAVE RADIO SYSTEM
PointLink is a microwave radio system for use on moving rigs/vessels where the antenna is stabilized in one or two axes, azimuth or azimuth/elevation.

Features:
Frequency band: 6-40 GHz
Data-rate: Up to 622 Mb/s
GPS Gyro System with MRU unit for position, heading and motion detection
Up to 360 degrees operation
Pointing accuracy up to ±0.2 degrees
Pitch & roll motions up to +/- 25 degrees controlled by motion sensors
ATEX version (optional) for operation in hazardous environments
ANTENNAS Point-to-Point
Antennas product range:
Standard parabolic and shielded antennas
Single and dual polarisation
Integrated antennas for direct mounting of ODUs
3,5-40 GHz frequency bands
Antenna sizes from 0,3m to 4,5m
MULTIPLEXERS NEXT GENERATION
The SDH multiplexers offered range from cost effective compact 1U single box systems for access applications, to modular based protected systems for the critical core network applications.

Features:
Supports PDH, SDH, ATM, WDM, and Advanced Ethernet L1, L2 and MPLS-based services.
Compact 1U ADM units with fixed E1 + Ethernet interface
Modular and scalable hardware with or without redundancy
Large number of TDM interfaces for the legacy traffic
Integrated management
Small footprint and low power consumption
Aggregate speed of 155 to 622 and 2500 Mbps in point-to-point, or ring configurations
Unit protection, line protection or network protection
Ceragon Networks AS
32 Espehaugen, Entrance B N-5258, Bergen, Norway
+47 5 522 51 00
+47 5 522 52 99
infoeurope@ceragon.com