Last Update
September 5, 2016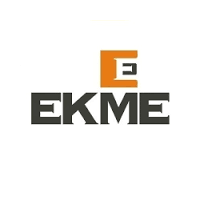 Categories
Infrastructure, Construction & Civil Engineering
Metal Processing, Parts & Components
EKME, specializes in providing constructing services in the field of petrochemical, energy and industrial applications.
Company also specializes in the engineering, design, manufacturing, procurement and erection of complete units and installations of the following products like:
Mechanical equipment
Electromechanical installations
Offshore installations and submerged works
Storage installations
Wind turbine towers
Pipelines
Fire protection systems
Steel structures
Metal constructions
Company's core activities include engineering, design and manufacturing of high technology pressure equipment such as towers, heat exchangers, pressure vessels, tanks, complex and heavy steel structures and machinery items.
Complete process units and installations
Civil works includes buildings, foundation and infrastructure, maintenance works on industrial units, insulations and paintings of industrial equipment, etc.
Maintenance, insulation and painting works
Manufacturing and procurement of industrial equipment
Erection of equipment units and installations.
Electrical, mechanical and civil engineering
EKME is an authorized bidder for the Hellenic Army (NATO, fortification-classified projects) and since 1998 is a member of the Hellenic Association of Military Goods Suppliers. Furthermore it is a member of the Industry Association of Northern Greece since 1991.
EKME - Mechanical Engineering & Construction Contractors
6, Sofia Vempo str., P.O. Box 8 - 570 08 Exedoros, Thessaloniki, Greece
+30 2310 755085
+30 2310 755104
ekme@ekme.gr