Last Update
September 14, 2018
Categories
IT, Computing and Software
SingularLogic, is the leading Software and Integrated IT Solutions Group in Greece. Its activities comprise of the development and distribution of business software applications, design and implementation of Integrated IT Solutions for large enterprises of the private and public sector, including distribution and support of well-established international IT products.
SingularLogic with highly skilled personnel, specialized know how, large product portfolio, large customer install base with 40.000 SME clients and 700 large enterprises, dynamic distribution network consisting of 400 business partners nationwide and significant implementations of 400 large and complex IT projects for the private and public sector is the reliable and credible partner that guarantees the investment of its customers.
Certified Management Systems
Company's mission is to provide reliable, socially responsible products and services that will catalyse change to its customers. The company wants to do this by adopting best management practices in the fields of quality, the environment and information security. The company's commitment in this regard is confirmed by its ISO 9001, ISO 14001 and ISO 27001 certificates.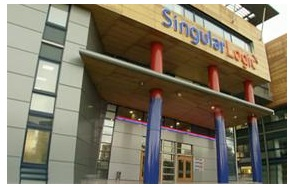 Enterprise Applications
SingularLogic offers enterprise application-related services that allow clients to optimise and transform their operations. The company is therefore well poised to offer integrated enterprise solutions useable with all forms of technology, including cutting-edge technologies like the Cloud, Mobile, etc. Over the years, SingularLogic has acquired extensive experience in the following sectors:
Enterprise Applications: The company's experience in this sector covers ERP, CRM, HRMS, Retail, and Financial Applications on platforms by international firms such as SAP, Oracle Siebel, as well as its own in-house solutions for these sectors.

Collaboration/e-Commerce: The company offers B2B and B2C collaboration and e-commerce solutions.

Enterprise Integration: SingularLogic employs SOA architecture and innovative models to ensure optimum integration solutions, and vertical specialisation for its clients in a wide range of business sectors (telecom, banking, public sector, retail sales, etc.)
SingularLogic can provide its clients with cost-effective, efficient solutions, showing them the way to the future. Its solutions are an investment that ensures clients a leading position while giving them a competitive edge. The company also works with a large team of highly-experienced consultants who provide valuable input into the solutions offered, guaranteeing that the solutions can be rolled out faster, more productively and efficiently for clients.
Systems Integration
Systems integration, which includes integrating off-the-shelf software into systems, developing customised applications, and infrastructure integration services, plays a particularly important role in today's 'interconnected' world. SingularLogic has extensive experience with system integration having integrated separate -frequently dissimilar- systems and applications in both physical and operational terms, to add value to the client's business functions. SingularLogic has experience in:
Vertical integration: Developing operating entities with common characteristics.

Horizontal integration (Enterprise Service Bus): Interfacing systems using a specialised module.

Enterprise Application Integration (common data format integration): Interaction using standard data formats.

Service-oriented architecture (SOA): Integration via interoperable services.
In addition, SingularLogic offers a modular portfolio of infrastructure integration solutions. These solutions are provided by experienced engineers and include planning, design and implementation, based on platforms by leading international manufacturers such as Microsoft, Oracle, VMWare, Cisco Systems, Hewlett Packard, IBM, DELL, Fujitsu and others. SingularLogic is a certified direct agent of these firms. These services relate to fields such as:
Cutting edge data centers,

Business continuity,

Virtualisation,

Storage and backup infrastructure,

IT Service Management (ITSM),

Public or private cloud development services.
When designing and planning system integration services, SingularLogic takes a strategic focus, and aims to ensure:
Flawless technology. The company uses cutting-edge, tried and tested roll-out technologies to ensure that the investment pays off over time.

That business know-how is transferred.

A rational, cost-effective solution that safeguards the investment made.

A people-focused solutions, by working in partnership with the client to implement each project.
Project Management
The company considers it particularly important to ensure that its project management team guarantees continuous customer satisfaction throughout the whole time a project is being implemented. SingularLogic has more than 25 years of experience in managing complex IT projects based on:
The adoption of international best practices taking into account the PMI® project management framework: This is tailored to the operational needs of each project and client, thereby ensuring a customised approach that brings clear added value to each individual project.

Creating and maintaining a knowledge repository: This ensures maximum support is available as well as a standardised approach to project management, thereby ensuring that all project management staff have access to the same information, follow the same procedures and have access to the same materials and standards.

Measuring performance and re-examining project management procedures: This is a procedure that allows the company to be able to constantly optimise and adjust its project management practices based on accumulated experience and current market needs.

Investing in continuous professional development of its project management staff: Staff attend additional training courses to keep their skill set up to date.
Software Development
SingularLogic develops software for more than 30 years. The Development Department ensures that the standards are developed to allow applications to be implemented across a wide spectrum of cases, and that they are constantly kept up to date in order to optimise cost and minimise risk. Capitalising on that experience, the company has developed a standard application development framework that is not dependent on the implementation technologies employed (Microsoft, Oracle, Open Source, etc). This approach allows cutting-edge apps to be rapidly developed.
The software development environments used are specified in each case depending on the project's special requirements. This ensures that reliable, flexible software solutions are created that can optimise client business activities and guarantee a return on the investment being made. Given that technologies develop at a rapid pace, SingularLogic uses a tailor-made implementation methodology to analyse, plan and develop software. The methodology grows and develops organically, utilises feedback, is incremental and object-oriented, based on prototype development. This ensures optimum, rapid development of applications for a wide range of platforms (cloud, desktop, mobile, etc.). The company also considers it vital to invest in ensuring that its staff keep their technical skills and competences up to date, reflecting the tools and methodologies of the main technologies around at any time.
IT Support
Providing support for cutting-edge IT systems is just as important as acquiring those systems, since an increasing part of the activities and operations of modern businesses depend on those systems. If system operations are not systematically monitored and preventative checks are not carried out, this could have a significant impact on a business activities both in terms of cost and customers. SingularLogic specialises in providing comprehensive IT support services to large clients and installations. Having built up considerable know-how in complex IT environments within multinational companies, banks, telecom providers and the public sector, the company has invested in products and services for the support of those systems. One key success factor here has been the holistic approach the company takes. SingularLogic's has the ability to offer maintenance and support services for client infrastructure, not just for individual products. Support services cover a comprehensive range of operations from initial installation right up to roll out and beyond.
The Company offers vertical support services in the following sectors:
IT infrastructure configuration and management for networks and services by large firms such as IBM, Hewlett Packard, DELL, Cisco Systems, Oracle and Fujitsu, operating systems such as MS Windows, Linux & Unix, databases such as Oracle, SQL Server & MySQL as well as Applications.

IT Service Management (ITSM) based on management platforms such as Microsoft's System Center and Hewlett Packard's OpenView, as well as support via extensive Service Level Agreements (SLAs) with the required reporting.

Public or private cloud development and management systems based on virtualisation technologies by leading international firms such as Microsoft Hyper-V, VMWare vSphere, Oracle VM, Citrix XEN, among others.

Large database support and management services, based on Microsoft SQL Server, Oracle RDBMS & MySQL.

Management of complex and complicated application functionality.

Capacity planning.
A modern call center is a coordination hub and a common reference point one can contact about all services. The Department has direct call lines available during business hours and also offers extended hour support depending on the project and client. When someone contacts the Support Department, the call is logged into the IT system and given a unique identifier that allows all requests to be followed up in all subsequent stages. The level of support and effectiveness is also checked using a monitoring mechanism.
The Department's engineers are knowledgeable, experienced members of the company's staff or associates who have considerable know-how in designing and supporting networks, systems and applications. SingularLogic works in close quarters with the major firms it has partnered with to offer continuous training for its engineers, by enrolling them in special training and certification courses. The company has teams of specialised software app and system engineers based in Athens and Thessaloniki as well as an extensive network of certified associates.
ERP Systems
Enterprise Resource Planning Systems
SingularLogic has a wide range of resource planning systems that are properly designed to meet the business needs of all medium and large enterprises, regardless of their field of activity.
The company's enterprise planning systems have been integrated to meet all long-term business requirements, and are properly configured or expanded with new functionalities in order to meet future needs; they are a control, administration and decision-making hub within the enterprise.
SingularLogic's Enteprise Resource Planning Systems portfolio includes the following applications:
Galaxy Enterprise Suite,

Business ERP,

Enterprise ERP,

Galaxy CompakG,

CompakWin.

Galaxy CRM
The Customer Relationship Management System (CRM) that organises, monitors, manages and optimises customer relationships for any business. Designed and developed by SingularLogic using the latest Galaxy technology, it guarantees the business's future.
Galaxy Commercial
The Commercial application is designed for small and developing businesses, and fully covers their commercial activity offering an extremely simple, easy to use and pleasant environment while constituting a tool for their development.
Designed and developed by SingularLogic using the latest Galaxy technology, it is a guarantee that will carry your business into the future.

ARTius High Street
A state-of-the-ART solution for small retailers
The ARTius High Street application targets small businesses of the retail industry such as mini markets, kiosks, greengrocer's shopsstores, liquor stores, butcher's shops, bakeries, patisseries etc, and meets all needs that arise in the daily operation of the store. More specifically, it ensures fast customer service, better sales and store control, and warehouse monitoring, while its technical and other features ensure maximum business advantages benefits for the businessenterprise.
It also provides a range of interface choices with specialised retail hardware equipment such as PoS (Point-of-Sales), tablet PCs, fiscal printers, scanners, security cameras, card readers as well as weighing scales and new generation weighing systems. Lastly, configuration and reporting of the application are performed via a user friendly and very fast web environment, which requires no installation.

Station Manager
Station Manager is an Integrated Management Solution for Petrol Stations, which effectively covers the needs of a modern petrol station while expanding to meet all stages of the fuel distribution chain. It is addressed to:
Petroleum product trading companies with partnered or privately owned petrol stations - branches.

Groups of petrol station owners,

Independent petrol station owners who want to control their petrol stations and their business, and automate day-to-day processes, thus gaining in time and control.
Galaxy Web Shop
The Galaxy Web Shop is an e-shop solution which interconnects with Galaxy commercial applications offering optimum online presentation and selling the business's products through the Internet. It is addressed to businesses and professionals of any size and field, who aspire to enter dynamically the world of e-commerce.
Application "moRE"
moRE enables you to interact through mobile devices (smartphones, PDAs, tablets) with the business's IT systems (ERPs, CRM etc.) to draw critical information and carry out transactions or account activities offering useful advantages with minimal learning requirements.
Full functionality for subscription model
The application moRE consists of 4 standard modules and is exclusively supplied in cooperation with Vodafone, as a monthly subscription service incorporated in your mobile phone bill. All required infrastructure is hosted by SingularLogic Data Center providing thus the prerequisites for the service's seamless operation and the security of data integrity stored and distributed through it. moRE is available for download on Google Play and App Store, and can be installed on compatible devices in demo version completely free of charge.
Orbi
Orbi is an integrated solution which helps freelancers manage their contacts, time, projects and finances. It is available as an online subscription service and there is no need for installation or upgrades. Users can have secure access to the service from any place, at any time and through any device connected to the Internet.
More specifically, Orbi is the only Greek service which allows freelancers to record and generate transaction slips (invoices & receipts) and to monitor their tax data online. Moreover, Orbi features additional specialised functions such as client base management, calendar, project management and to-do list.
Its intuitive design helps users navigate the application environment quickly and easily. This is how each freelancer can have a complete control over its business in the simplest and easiest way.
4doctors
The modern way to streamline your practice!
4doctors is the new method for the streamlining of any medical practice as it offers complete functionality for patient management, appointment scheduling, reminders, to-do tracking and monitoring of everyday financial data in the simplest, most pleasant and functional way.
Its competitive advantage lies in the fact that it allows doctors to have all required information, stored in a single place and at the same time readily available through any device (desktop computer, laptop, tablet, smartphone).
SingularLogic
Ahaias 2 & Trizinias Kifisia 145 64, Athens, Greece
+30 210 6266 500
+30 210 626 6099
info@singularlogic.eu