Last Update
September 7, 2016
Categories
Infrastructure, Construction & Civil Engineering
GLASSART S.A., is a leading company in Multi-functional Housing Systems, since 1980, and it consists of a true benchmark in any comparison. The company develops the meaning housing, in order to respond increasingly at the housing challenges and every need. By applying a modern philosophy founded on quality, design and ergonomics, the company researches, designs, creates and offers flexible and timeless housing solutions that last across time and cover various activities, enhancing clients' plans with assurance and comfort.
GLASSART's specialized know-how, in combination with the fundamental operational specifications of the international standards certifications, awards and honours, have appointed GLASSART as a synonym to whole, high quality constructions and innovative solutions.
GLASSART is a valuable and reliable partner and can be found next to major or minor projects, making the difference in premium housing.
GLASSART. A true benchmark in any comparison.
Certifications & Awards
GLASSART is a pioneer for the quality of its modular Multi-functional Housing Systems, by earning the following certifications based on international standards and specifications:
International Standard ISO 9001:2008,
International Standard ISO 14001:2004,
International Standard OHSAS 18001:2007,
Lloyds Register for control of 25 tons static strength,
Lloyds Register for the use and manufacturing of Stainless Steel,
ΝATO approved manufacturer.
These certificates are an official recognition of the company's policy for thorough control and quality assurance. GLASSART, loyal to its philosophy, responds dynamically to the demands of the times, by the continuous improvement of its organization, as well as the development of its products and services provided.
Multi-functional Housing Systems
Polyester Multi-Functional Systems,
Steel Multi-Functional Systems,
Composite Aluminium Multi-Functional Systems,
Wooden Multi-Functional Systems,
Multi-Form Systems,
Bullet Proof Sentry Boxes - Military Systems,
Special Production Units - Recycling Units,
Interior Systems,
Outdoor Systems,
Smokers.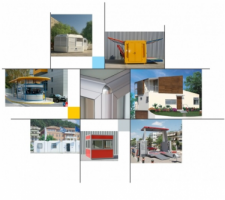 Glassart S.A.
16 th klm Spata Ave., Palaiopanagias str., 15351, Paiania, Greece
+30 210 666 9112
+30 210 666 5226
info@glassart.gr