Last Update
September 7, 2016
Categories
Infrastructure, Construction & Civil Engineering
Maintenance Repair Overhaul and Logistics Support
Mechanical, Electro-mechanical, Hydraulic and Pneumatic components
Metal Processing, Parts & Components
TURBOMED S.A., is a multidimensional company dealing with a variety of activities. Founded in 1976, was the first company in Greece in the field of turbocharger's repair. As one of the leading companies it was also the first to obtain an ISO 9002 and the first to create a team of technicians available to travel all over the world at any time.
TURBOMED is at your service 24hrs a day, 365 days a year. Based in the largest port of Greece, Piraeus, TURBOMED operates with specifications and results, exploiting human resources and pick technology to the maximum, with a vision for the impossible.
TURBOMED's people resourceful, with respect to its clients' goals, overcome adverse circumstances, give solutions, and are available on call to travel around the world offering economic, fast and professional services for the needs of navigation.
Their long-term experience, know-how and quality, compose the principles and the preconditions for the efficient 24hours service, either on board or in its high technology workshop.
TURBOMED's principles: vision, professionalism, flexibility, quality, results, speed, credibility, devotion, and security.
Products & Services
SPARE PARTS
New or used turbocharger spare parts or complete units are available for immediate dispatch in any place all over the world.
TURBOCHARGERS
Turbomed was among the first in its field to cover in full turbocharger needs. In particular it offers:
Overhauling: Restoring any failure, repairing/replacing of whole units or spare parts, routine overhauling, maintenance and inspection to trace and predict possible future failures, both on board and in the workshop, compose the main activities of overhauling.
Reconditioning: The advanced solution for the replacement of oil pumps and bearings. Bearings and oil pumps' worn parts are replaced by new similar to the manufacture ones.
Reblading: Reblading of rotor shaft with new or used turbine blades. All parts are inspected and supplied with relevant measurement reports and certificates.
Dynamic Balancing: TURBOMED is equipped with high technology horizontal-dynamic and static - balancing machines for rapid and precise results as well as for vibration analysis.
Welding: The most economic and guaranteed solution in case of turbine blade's surface worn. Turbine blades are restored to their normal dimensions according to manufacture specifications by TIG method (Tungsten Inert Gas).
Ultrasonic: Using Ultrasonic Test the casings are measured in several points for their thickness in order to anticipate any failure during the operation of turbocharger.
Deflection: Straightness of rotor shaft is checked by deflection test.
PRECISION WORKS
TURBOMED can cover the needs of navigation, industry and industrial energy. With special high technology machining workshop equipped with CNC (Computer Numeric Control) it manufactures precision parts upon request. Using CAD/CAM a part is designed and produced. In addition it implements reverse engineering for spare parts that are no longer available from original manufacturers.
PRECISION CASTING
TURBOMED's modern foundry is equipped with the most advanced inductive furnaces for metal melting. The main casting methods are investment casting (lost wax) and croning.
Quality Control
In recognition of its high quality services the company is rewarded by Lloyd's Register & TUV Nord with quality certificate ISO 9001:2008 and also with environmental quality ISO 14000 by TUV Nord Hellas. All the repair services are covered by full overhauling reports. The spare parts are supplied with international quality certificates.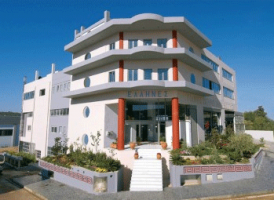 Turbomed S.A.
VI.PA.S Str. 1, No 2 18863, Perama, Attiki, Athens, Greece
+30 210 400 0111
+30 210 400 0225
turbomed@otenet.gr