Categories
CBRN Equipment
Composites, Plastics & Rubber
Services (R&D, training, engineering, consultancy, …)
Textile, Individual Equipment, Clothing
B.O.I.S. – FILTRY spol. s r.o., was founded in 1991. The heart of the company is made up of experts with many years of experience in research and development in the field of non-woven textiles, filtration and NBC protection.
At present the company aims its effort to the following four principle areas:
1. Development and production of masking means
2. Development and production of air-permeable NBC protective suits
3. Development and production of special air filters
4. Foreign trade in military materials
The company's high professional standards, comprehensive approach to problem solving and co-operation with specialized institutes and companies both in the Czech Republic and abroad create good condition for high products and service quality, contributing to the fulfillment of the principal objective – growing number of satisfied customers.
Contact info #1
Manager Quality and Marketing
stanislav.grela@bois-filtry.cz
trida Generala Piky 3, 613 00 Brno, Czech Republic
CAMOUFLAGE MEANS
Camouflage nets
This group of products is intended for camouflage of mobile and stationary objects in the visible, infrared (near, medium, far) and microwave regions. Camouflage nets have a modular structure, which enables the operator to achieve the required size by using different configurations. The nets are delivered in three basic designs (summer, winter and desert), supplemented with a number of special alternatives. A complete set includes an anchoring hardware, deforming and supporting elements according to its size and purpose of use.
Thermal mats
This type of mobile multispectral camouflage capability offers a significant camouflaging effect in the infrared region. Particular attention is paid to reducing thermal contrast between hot parts of combat equipment (for examples engines) and the surroundings, which results in the reduction and modification of characteristic thermal features of the object.
Camouflage overcoats
These multispectral camouflage means are intended for camouflaging personnel, i.e. scouts or snipers in the visual and infrared regions. They are produced in two basic designs: poncho and coverall. Their high variability enables extensive adjustments according to particular user requirements.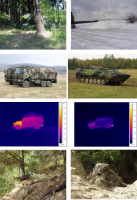 Product informational files
NBC PROTECTIVE SUITS
The protective suits provide excellent protection of skin against:
vapors, aerosols and droplets of chemical warfare agents,
radioactive dust,
biologically active particles.
The protective effect consists in a three-layer system of special fabrics:
Lining
Adsorption textile
Cover textile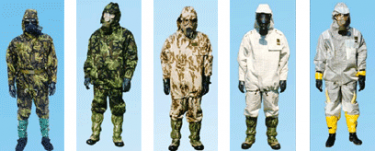 Product informational files
TARGETS FOR INFRA – RED REGION
The targets have been design for training shooting by arms with infra red fire systems.
Basic technical parameters:
operation rage 7-14 µm
supply voltage 12 V
hit indication
two basic kinds of targets (figures, vehicles)
performance according to the target character
B.O.I.S. - FILTRY spol. s r. o.
Pražská 3, 678 01, Blansko , Czechia
+420 516 410 560
+420 516 410 562
info@bois-filtry.cz