Last Update
July 18, 2022

Categories
C4I, Communication Systems
Electrical, Electronics & Electro-optics
Infrastructure, Construction & Civil Engineering
Maintenance Repair Overhaul and Logistics Support
TRANSCON, specialises in the production of electronic and electrical equipment for airports.
Its own production includes:
Integrated airport control and monitoring system AMS
System of multiple transfer of data commands DAP 128 TC
Constant current regulators for power supply of signal lights
Complete execution of heliports and airports
Container program
Airport lights and signs
Assembly and chief assembly
Guarantee and after-guarantee servicing
Within the frame of assembly works the company offers the following:
Cabling and transformers for airport signal lights
Meteorological equipment
Transceivers for voice radio communication between airport and air-planes
Standby power supply sources (diesel generator sets and UPS)
The company has its own development of hardware and software, prototype workshops, production workshops, servicing department and transport.
Development, manufacturing and servicing of equipment is certified in accordance with the quality control system ISO 9001:2001. All equipment is certified in ICAO, FAA and MAK. All equipment is designed on the basis of the state-of-the-art components.
More than 70 military and civil airports in Czech Republic, Slovakia, Germany, Russian Federation, Ukraine, Kazakhstan, Mongolia, Egypt and Latin America have been equipped with TRANSCON products.
Contact info #1
Kvapilova 2133, CZ 738 02 Frydek-Mistek, Czech Republic
SYSTEM AMS - REGULATORS TCR - MOBILE AIRPORTS - LIGHTING SYSTEM
System AMS
System AMS is designed for control, signalling and monitoring of the following airport systems and equipment:
Airfield ground lighting (AGL)
Constant current regulators (CCR)
Radionavigation equipment and systems (RNE), equipment En Route
Electric power systems (EPS)
Meteorological equipment (ME)
Protection zones, control and monitoring of distant objects
Receiving, sending and processing of data from the Aviation Fixed Telecommunication Network (AFTN), central time
Monitoring and processing of basic information (weather, traffic restriction, ATIS, occupation, databases, emergency cases) designated for air traffic control
The necessary pre-requisite is furnishing of appropriate input signals from monitored equipment and devices stations evaluation of data for the needs of CAT II and CAT III
Archiving of exploitation and failure states
The AMS system is controlled by a LAN microcomputer network situated at dispatcher posts and in technical sections.
For communication with the technological section, the system is equipped with a multiple transmission system - DAP 128TC, with minimum cable consumption, high resistance against industrial interference and high reliability. By means of remote data transmission, the system allows for the monitoring and control of devices within the airport range as well as of distant objects (such as radar stations).
The system respects the regulations of National Airlines Inspection, Air Traffic Control, and it has the ICAO Annex 14 certificate.
Regulators TCR
The TCR constant current regulator is designed to supply power to the serial current loops of airport signal lights. The regulator complies with the FAA Advisory Circular AC 150/5345-10E, specification L-829, requirements.
The basic TCR specification includes:
Thyristor regulation

An air cooled transformer

The multi-processor control system

Digital data input and display

The switch-over current system

Switch-over regulation 5 or 7 degrees of luminous intensity

Measuring and long distance transmission of cable isolation condition

Measuring and long distance transmission of defective bulbs number

Over-current and over-voltage protection alerting

Remote and local control

The possibility of remote control via a pair of conductors

The accessibility of all the components and connectors from the front

Easily replaceable electronic modules.
Mobile airports
TRANSCON offers a complete mobile airport set.
Individual modules, which are designed for easy and quick installation, are normalised ISO containers (dimensions 6050mm x 2435mm x 2591mm). Containers are equipped with air-conditioning, lighting and fire extinguishers. They can be transported by usual transport equipment (truck, train, ship) as for any other ISO container. Colour execution is red-white for civil airports or camouflage for military airports.
The six parts which make up the mobile airport are the tower (TCT), briefing (TCB), substation (TCS), lighting (TCL), diesel (TCD) and material (TCM) modules.
The mobile airport offers:
Computerised control and monitoring system

Complete airfield lighting system with CCRs

Meteorological equipment and data

Radio-navigation equipment

Voice recording

Briefing and relaxation areas

Air-conditioning

Electric power systems

Spare and back-up power supplies

Fire and safety alerting

The AFTN network

GPS time

Data archiving

8 hour assembly time.
Lighting system
TRANSCON offers also bidirectional/omnidirectional elevated lights with integrated transformer designated for mobile and stationary airfield ground lighting airports low/medium intensity as well as for unserviceability of runways or taxiways.
The company provides also a wide range of safety runway lamps.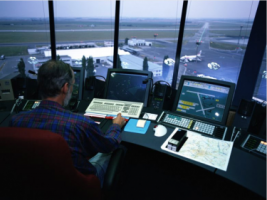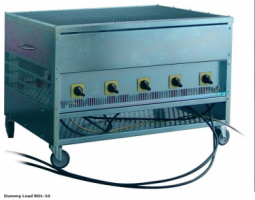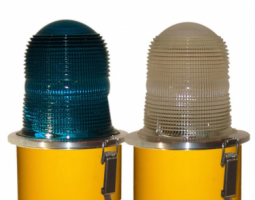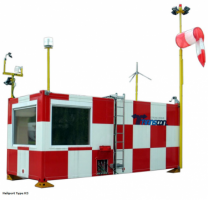 Product informational files
Transcon Electronic Systems spol. s r.o.
Kvapilova 2133, CZ 738 02, Frydek Mistek, Czechia
+420 558 437 551
info@transcon.cz