Last Update
September 8, 2021
Categories
Other Aerospace, Defence and High Technology related companies
FAES is an industrial packaging manufacturer that designs and engineers custom packaging solutions. We produce custom (flight) cases with custom interior and provide additional services such as system integration, cleaning and refurbishing.
We are experts in the field of UN certifications and understand the packaging requirements concerning NEN, Mil-specs and STANAG. We advise companies on how to protect fragile and sensitive equipment to ensure safety throughout the logistics chain. We understand nothing is more important as properly working equipment during a mission.
For additional information on packaging solutions for the Defence sector: https://faes-packaging-solutions.com/en/sectors/defense/
Industrial Cases
Over the past two decades the SKB Industrial Division has provided transport solutions for a seemingly endless list of industry specific applications including, Fire and Rescue equipment, Military Hardware, Law Enforcement Firearms and Equipment, Medical Tools and Samples, Portable Voting Equipment, Computer Server Systems, Field Communications, Waterproof Scientific Experimentation Kits, Waterproof and shockproof Cell and Satellite phone transport, Plasma and LCD monitor transport.

Government / Military
Public Safety
Medical
Communications
Video
Marine / SCUBA
Scientific
Electronics / IT
Photography
Why Choose SKB Europe?
Indestructable cases and racks
Superior Quality
Superior Value
Superior Warranty
Tailor-made solutions
Flexible
Product informational files
Sports Cases
Hunting, Fishing and Golf. All sports of which you have to travel to find the best location. Your expensive equipment is protected to the max in a case of SKB and can be transported conveniently.
You will get the best suitable solution, because the represented engineers are just as passionate about these sports as you are.

Why Choose SKB Europe?
Indestructable cases
Superior Quality
Superior Value
Superior Warranty
Tailor-made solutions
Flexible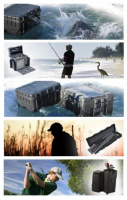 Tailor-made solutions
SKB Europe can offer tailor made solutions. Both interior-wise as well as dimensions-wise

Interior
All Defender and SKB products can be delivered with a custom made interior. Using foam or other materials. The shape of the products you wish to transport will be cut precisely in the foam. So that the Defender and SKB products not only offer excellent protection on the outside, but on the inside as well.

Exterior dimensions
Defender Aluminium containers are available in a wide variety of sizes. If a standard size will not meet your requirements a custom design can be supplied. No minimum volume required.

SKB Cases is proud to offer the highest quality and widest selection of custom case options on the market. For all custom cases we require a minimum of 250 pieces to manufacture.
Our Light Duty Series is an affordable approach to your custom case needs. Please contact SKB Europe and we will make sure we meet your requirements both on dimensions and accessories to be used.
Faes
Hamelendijk 2 5541 RA, Reusel, The Netherlands
+31 (0)497 389070
+31 (0)497 380 719
info@faes.nl