Last Update
August 21, 2019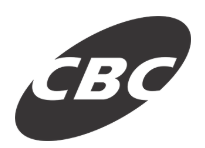 Categories
Ballistic Protection
Weapons & Ammunition
CBC Brazil, is one of the largest ammunition manufacturers in the world, with expertise in production of small and medium calibers, since 1926. Its wide range of products is exported to over 100 countries and attends to the needs of military, law enforcement and commercial markets.
CBC offers the most comprehensive range of handgun cartridges in the industry - which are sold under the renowned brand Magtech Ammunition - and complete families of military calibers such as 5.56x45mm, 7.62x51mm, 12.7x99mm (.50), 20mm and 30mm. After two decades of heavy investments in technology, CBC is equipped with state-of-the art production facilities, including the most modern manufacturing lines for center fire cartridges currently available.
Offering a consistent combination of excellent quality, service and flexibility, CBC has become one of the major providers of ammunition to NATO countries, police forces and sport shooters worldwide. Its competitive advantages derive from its high levels of productivity, solid supply chain management and a fully integrated manufacturing process. CBC produces all the ammunition components used in its products, including powder, primers, cases and projectiles - guaranteeing with that a high level of cost efficiency and timely order fulfillment.
CBC has two production units in Brazil, located in the states of São Paulo and Rio Grande do Sul. The holding company also owns the German manufacturer MEN and the Czech producer Sellier&Bellot (with a distribution center in Germany).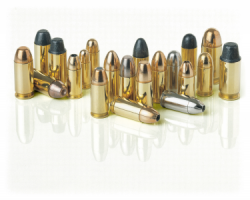 Contact info #1
Av. Humberto de Campos, 3220 Ribeirao Pires - SP - Brazil ZIP Code 09426-900
AMMUNITION
9x19 mm – Parabellum Ammunition for use in the following guns: Pistols: Beretta, Browning, Colt MK6, FNC Model GP, Glock, Sig-Sauer, Steyr, Taurus, Walther, HK-USD, and other similar pistols. Sub-Machine-guns: Beretta M12S, Beretta M9-972, HK-MP5, Ingram, Mini-Uzi, Uzi and other similar machine-guns.
5.56x45mm Ammunition for use in the following guns: Rifles: Colt M16, M16A1, HK-M33, Colt AR-15, FNC, Valmet, Enfield L85A1 (TW-7), Colt M16A2 (TW-7), and M16A3 (TW-7). Machine-guns: FN-Minimi, Beretta AR-70 and Enfield L86A1 (TW-7).
7.62x51mm Ammunition for use in the following guns: Rifles: FN-FAL, FN-FALO, SIG, G3, HK, and similar rifles. Machine-guns: FN-MAG, M-60, Rheinmetal, and similar machine-guns. 12.7x76mm (.50) Ammunition for use in .50 M8C Spotter Tracer Rifles.
12.7x99mm (.50) Ammunition for use in .50 M85, .50 Browning M2HB Machine Gun.
20x102mm Ammunition for use in Monotube M39 guns, and in 6-Tube M61 guns (Vulcan).
20x110mm Ammunition for use in MK2, MK3, MK4, ISS and IISS Oerlikon guns.
20x128mm Ammunition used in KAA-KAB Guns.
30x113mm Ammunition for use in Types 550, 551, 552, 553, and 554 DEFA Automatic Guns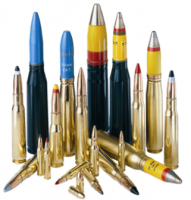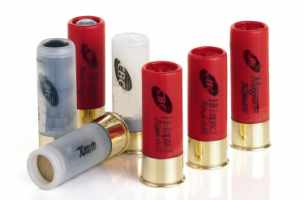 Product informational files
BALLISTIC VESTS AND EQUIPMENT
Vests used by the military, policemen and professionals of private security. The most efficient item of security for people that need constant protection.
Aramida
The synthetic staple fibres of aramida had been developed in the end of the 60s and launched, years later, for the DuPont under the mark KEVLAR®. NFT - New Fibers Technology The ballistic vest of NFT (New Fibers Technology) is the result of constant search for the technological perfection of the products offered to the Brazilian market.
Gold Flex
The vests "Gold Flex®" are manufactured and developed for the North American company Honeywell. This product has 4 fabric blades of aramida unidirectional, which are in position 0°/90° and 0°/90° and joined through the process of "calandragem"de by a film of plastic term in each face. The product allows the confection of ballistic vests that present excellent resistance to the penetration of projectiles, inclined impacts and reduction of traumas.
Polyethylene
The use of polyethylene in the confection of ballistic vests was a technological revolution. The polyethylene staple fibres have highest molecular weight and are 10 times more resistant than steel.
Spectra Shield®
The vests of Spectra Shield® Plus contain, in all the surface of the ballistic panels, two blades of anti trauma, constituted of polyethylene staple fibre fabric.
Dyneema
The Dyneema vests® possess similar characteristics of ballistic resistance to "spectra flex" and the raw material is produced by the DSM of Holland. The technology developed for the DSM allowed the reduction of the weight of the blades from 150g/m2 to 145g/m2, demonstrating superior ballistic resistance. In face of this improvement, the vests manufactured with Dyneema® possess 1 blade less than the ones that the Spectra Flex has, so they are lighter.
Spectra Flex®
The combination of the properties of the Spectra Flex® with the ballistic technology of the CBC allowed the development of a light, flexible product having high performance. Multi Vest Threat CBC Always following the clients' needs and the global technological development, CBC developed a new vest, the Multi Vest Threat CBC that offers, besides the conventional ballistic protection, additional protection against weapons' attacks.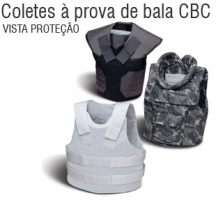 WEAPONS
Pump CBC 12
Ideal for Police use, PUMP CBC 12 is a weapon indicated to be used in situations where trustworthiness and quality are required to intimidate the opponent. Police forces of diverse countries adopt the PUMP CBC 12 because of its ability to fire, its great capacity to store cartridges, as well as its rapidity of shot and easiness of handling. Rifle
CBC 199
CBC 199 has a bold project that combines technology, beauty and versatility. Its accessible price, in combination with the easiness of handling and security, make it an ideal weapon for beginners in hunting. It is also recommended for defense, sports and for leisure.
Rifle CBC 7022
The versatility of rifle 7022, with a bore of 22 LR (Long Rifle), makes it suitable for the hunting of small animals, sports, beginners and leisure.
CBC - Companhia Brasileira de Cartuchos S.A.
Av. Humberto de Campos, 3220, SP, ZIP Code 09426 900, Ribeirão Pires, Brazil
+55 11 213 98 219
ir@cbcammo.com