Categories
Engines, Propulsion, Power Generation
Mechanical, Electro-mechanical, Hydraulic and Pneumatic components
Ships, Vessels, Submarines & related equipment
Motomarine, is mainly active in the design and development of pleasure, commercial and military vessels, as well as ship parts and compontents. Manufacturer of coastal speed Boats LAMBRO 57 PB CLASS II. Motomarine is a supplier of the Greek Ministry of defence for the above type of boat.
An indicative list of the company's clients include:
Hellenic Army:
71 Fast Attack Boats
30 High Speed Patrol Boats
Hellenic Navy:
2 Search & Rescue Boats
6 Personnel Boats
12 RIBS
28 Landing Crafts LCVP
4ps. Type 214 submarines (special parts)
Hellenic Air Force:
9 Search & Rescue Boats
1 Parachute Boat
Hellenic Port Authorities:
16 Pilot Boats
Hellenic Coast Guard:
59 Patrol Boats (35 of them Combat)
12 Fast Patrol Boats
5 Anti-Pollution Boats
13 SAR self fighting vessels
Hellenic Ministry of Finance:
3 Combat Support Boats (under joint-venture)
8 Patrol Boats
6 Custom Patrol Boats
Hellenic Fire Fighting Authorities:
6 Fire Fighting Boats
Hellenic Police:
1 High Speed Interceptor Boat
Regional Delel. Directorate East Macedonia and Thrace:
2 High Speed Ambulance Vessels
North Aegean Petroleum:
2 Supply/Passenger boats
Swiss Port Police:
1 Patrol Boat
Suez Canal Authority (Egypt):
50 Mooring Boats
7 Pilot Boats
Algerian Port Authorities:
28 Mooring Boats
12 Pilot Boats
Burundi Navy:
5 Patrol Boats
French Port Authorities:
2 Special Pilot Boats
NATO:
1 Search Boat
Guinea Coast Guard:
1 High Speed Patrol Boat
Saudi Arabian Coast Guard:
11 High Speed Patrol Boats
However, Construction is the one side of the products and services of Motomarine S.A.. The company is in position to offer its clients with support and training services for all and each specialised component, even the main engines and electronics.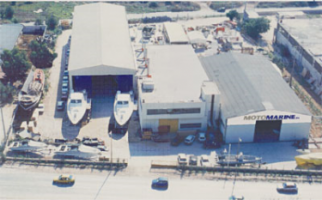 Motomarine S.A.
27th Km Avenue Koropi Bari, Attiki 19400, Koropi, Greece
+30 210 6623291
+30 210 6020865
info@motomarine.gr