Categories
Other Aerospace, Defence and High Technology related companies
Services (R&D, training, engineering, consultancy, …)
METEKA GmbH, provides solutions for disposing of infectious waste for disinfection, sterilisation of medical waste and waste water.
Some of its products are:
Waste Management System:
METEKA System
MEDISTER 10
MEDISTER 60
MEDISTER 160
MEDISTER 360
MEDISTER 360-2
MEDITRANS
Biotrolley
Waste Water Decontamination:
MEDISTER 560 continuous flow sterilization devices put
Food Disinfection:
Company's products serve in the following fields like hospital, laboratory, pharmaceutical industry, and canteen kitchen.
METEKA GmbH has been quality certified to ISO 9001:2000 and ISO 14001:2004 standard.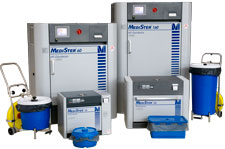 METEKA GmbH
Viktor-Kaplan-Straße 7, 8750, Judenburg, Austria
+43 (0)3572 85166
+43 (0)3572 85166-6
info@meteka.com