Last Update
September 14, 2018
Categories
C4I, Communication Systems
Electrical, Electronics & Electro-optics
IT, Computing and Software
Maintenance Repair Overhaul and Logistics Support
Services (R&D, training, engineering, consultancy, …)
The enterprise's legal predecessor, HM Electronics, Logistical and Property Management Limited Company was founded on 1 January 1993 by the Minister of Defence at the base of the Electronics Directorate of the Hungarian Defence Forces, established in 1981. At the time of its foundation its main activity was the design of radio reconnaissance and jamming systems made of basic components produced by Hungarian industrial companies, development of special hardware and software elements, and the provision of training, education and expert advice relating to the delivery of the system.
In 1995 the Electronics and the Logistical Directorate were formed as two independent business divisions. As owner, the Ministry of Defence imposed increasing demands on HM EI Rt., especially in terms of property and asset management, operation and services. In 1997 another business unit, the Property Operation Directorate, was founded to attend to tasks that needed to be addressed as a result of these demands. The Security and Property Protection Directorate was established in 2003 in response to experience and results obtained while tackling the tasks, integrated into various organizational units, resulting from the guarding and the protection of the managed properties. The above task categories, even though they have been renamed and assigned to different organizational units, are still part of the Company's profile.
Thanks to its efforts, HM EI Zrt. was bestowed the title "NATO Certified Supplier" and as a result, it was the first among Hungarian companies to sign a NATO "Basic Ordering Agreement".
Guarding and Protection Service
Boasting a well-trained staff, advanced technical assets and exceptional competence, the company has been present on the market of protection and guarding services since 2003.
Their area of excellence is manned property protection, which covers the close guarding of more than 250 properties as well as military and other objects that require enhanced security.
HM-EI Zrt. is a market leader in manned guarding and property protection services because:
• The company is one of the largest Hungarian property protection enterprises. They have about 3400 employees providing guarding and protection services for facilities entrusted to us. Every day about 800 persons are on active property protection duty at the same time.
• They are reliable. They guard and protect facilities that are of utmost importance for the Hungarian Defence Forces, and for the functioning of the country.
• They provide an excellent and disciplined service to customers. Their measured customer satisfaction ratings reflect their customers' steadfast satisfaction. Many of the employees are former professional or contracted soldiers, for whom disciplined, meticulous and cultured conduct became a second nature in their work during their long years of service.
• They provide advanced equipment and tools for property protection assignments.
• They regularly review the quality of their services and operate a central dispatcher service that is accessible 24 hours a day in the entire country.
Key types of manned guarding and protection services:
• Property guard service
• Armed property guard service
• Armed security guard service
IT Activity
Development of information systems
HM-EI Zrt. staff has extensive experience in the design and implementation of special military and qualified information technology solutions. The company provides an end-to-end service, from the design of systems through development to complete implementation, from establishing the requirements for operation to the creation of operating policies.
With the permission of the National Authority for Cryptography, they are the exclusive developers and producers of certified data security devices for state and government authorities. They also accept orders for the design and implementation of information technology and telecommunications centres, and for the support of their operation.
The company's aim is to use the knowledge of developers who gained significant experience in the implementation of systems that, in the past, served almost exclusively military and state interests, to provide customers with a leverage in the civilian sphere.
Operation of information and telecommunications systems
HM-EI Zrt. operating practice puts a special emphasis on establishing the consistent information management of business and other operations, which is ensured through a combination of competent professionals, suitable procedures and technologies. In addition to the satisfaction of clients, the company's work is guided by their quality assurance policies. HM-EI Zrt. carries out their tasks according to proven methods, taking into account industrial recommendations. If it is so requested, operating tasks are attended to by a professional field personnel that is backed by a central support group consisting of experts with extensive and specialized knowledge in a wide range of domains.
As part of logistical support for operation the company provides the following services:
• Replacement devices for the duration of the repair or maintenance work
• Completion of repair and maintenance tasks
• Provision of the required parts and consumables
• Administrative services with regard to special service shops and third-party service providers
• Keeping a record of assets and applications, life-cycle oriented management procedures
Through their established connections with manufacturers the company offers expeditious solutions even for the most extreme issues. If so requested, the company can organize and maintain the continuous operation of info-communications systems, and provide the necessary staff.
Computerized military simulation and training systems
Marcus is a comprehensive constructive simulation system in which, in addition to conventional combat, urban combat operations, combat support as well as NBC and electronic warfare, aerial warfare, air defence, disaster relief, plus stability and support operations can also be modelled in detail. With this system, regiment, brigade and battalion commanders and their staff can be trained in an environment where leaders and subordinates can study and practice military planning and decision making either as individuals or as a group.
Baglyas is a tactical artillery and fire-control simulation platform that is well suited for individual or group practice of artillerymen or reconnaissance troops. During the mission the system delivers realistic results based on weather and terrain conditions and the characteristics of the target. Baglyas can use a low-speed (ISDN) line to connect to the Marcus system.
The Savaria system uses Oracle iLearning technology to provide a web interface based solution for computerized training and examination.
Support for IT operation
The scope of activities pursued by the support group operates is as follows:
• Reconstruction and consolidation projects
• Security evaluations
• Implementation of custom solutions
• Planning, counselling
• Implementation, supervision of implementation
• Auditing of networks and information systems
• Consulting, training
Operation support is provided throughout the entire life-cycle of information systems, from design, through implementation and operation, to verification.
Facility and Property
Operation and Maintenance of Property
For 14 years to date the Property Operation Directorate of Hun HM EI Zrt. has been successfully attending to the fully range of operation, maintenance and troubleshooting tasks of various military facilities, installations, medical institutions, residential buildings, military hotels and holiday resorts managed by the Ministry of Defence throughout the country.
Property Investment, Construction, Rebuilding
The directorate's activities cover both the defence and civilian market where it undertakes, as project leader, and performs various construction and rebuilding tasks. The organization can also install and reconstruct technical systems of buildings, building engineering systems, drinking water, heating and hot water supply systems as well as HVAC equipment, professional kitchen, plus low-voltage and power supply networks.
Well-Boring
Hun HM EI Zrt. well-boring service covers the following:
• Implementation planning
• Acquisition of permits (construction permit according to the water protection laws, hydrogeological record,operating permit)
• Completion of water monitoring wells, probe drills for heat pumps, well restoration, chemical treatment, general water chemical and bacteriological testing, inspection of the base condition of wells
• Inspection of wells with a camera
• Design engineer's site supervision
• Maintenance, replacement and overhaul of existing hydrophore water and sewage pumps (MOBA)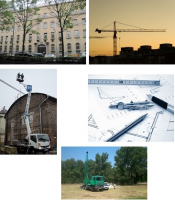 Unmanned Aerial Vehicles
HM EI Zrt. has been engaged in research and development activities in the subject of developing unmanned drones since 2007. The development project was completed in three phases, producing a complex system by the year of 2012, which has the following major components:
• Aerial vehicle equipped with an on-board automated control system, and
• A terrestrial operator centre that is suitable for controlling the aerial vehicle, performing missions, and can be transported in a container.
The developed aerial vehicles can be classified into two groups according to their area of application and their role, which are:
1. Target drones and reconnaissance aerial vehicles designed for military use
2. Reconnaissance aerial vehicles designed for civilian use
As a result of the development project, HM EI Zrt. produced prototypes of three vehicle types:
METEOR 3MA target drone
IKRAN reconnaissance aircraft
BORA reconnaissance aircraft (under development)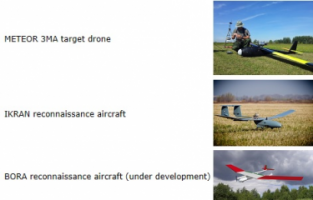 MRVP - Mobile Flight Control Post
Thanks to the efforts focusing on the development of a complex system a towable mobile terrestrial operator centre (Mobile Flight Control Post - MRVP) has been developed, which is suitable for:

• The transportation of aerial vehicles integrated into container based transport units
• Deployment on a short notice at the place of application as an operator centre (1 hour)
• Setting up and using flight control and video operator workstations
ASR-10/40M Containerized Water Treatment, Water Storage and Water Supply Equipment
HM EI Zrt. has been engaged in research and development activities related to the development of water treatment technologies.
The development project was implemented as two sub-projects:
1. Production of an absorbing agent suitable for dearsenification
2. Production of water treatment equipment implemented by integrating the developed absorbing agent
As a result of the development activities in the two sub-projects a containerized dearsenifying drinking water treatment unit, with an output of 8-12 m3/h, was manufactured, which is capable of reducing the iron, manganese, arsenic and hydrogen sulphide content of the treated water below the limit of 10μgr/l as provided for by the European Union, and to reduce the concentration of organic materials, heavy metals and phosphates. Building the containerized system of modularized units results in water treatment capacities that are suitable for serving increased performance requirements, which can be achieved by multiplying the number or the size of the containers and the units inside them.
Key Partners
HM EI Zrt.customers list includes:
• MoD Armament and Quartermaster Office
• Military National Security Service
• MoD Logistical Supply Centre
• Borsod-Abaúj-Zemplén County Hospital and University Teaching Hospital
• Budapest Police Headquarters
• Dr. Kenessey Albert Hospital and Clinic, Balassagyarmat
• Hungaro Controll Zrt.
• Hungarian State Treasury
• Hungarian National Asset Management Inc.
• Magyar Posta Ltd.
• National University of Public Service, Public Administration Faculty
• National Tax and Customs Administration of Hungary (legal successor of the Customs and Finance Guard), Regional Directorate, Northern Hungary
• National Tax and Customs Administration of Hungary (legal successor of the Customs and Finance Guard), Directorate for Key Taxpayers
• Nagykanizsa Property Management and Service Company
• Central Administration of National Pension Insurance
• National Institute for Sport Medicine
• Police Headquarters, Somogy County
MoD Electronics, Logistics and Property Management Co. (MoD ED Co.) (HM EI Rt.)
H 1101, Salgótarjáni út 20, Budapest, Hungary
 +36 1 431 2900 
+36 1 275 0972