Last Update
September 13, 2018
Categories
C4I, Communication Systems
Electrical, Electronics & Electro-optics
IT, Computing and Software
Military, Tactical, Logistic Support Vehicles & related equipment
Other Aerospace, Defence and High Technology related companies
Radar, Sonar, Navigation, Targeting, Surveillance
Services (R&D, training, engineering, consultancy, …)
TESLA a.s., is the successor of one of the first electrotechnical enterprises in the former Czechoslovakia. It was founded exclusively with Czech capital under the name ELEKTRA on January 18th, 1921. From 1932 to 1945 it was the PHILIPS holding. The production program ranged from light bulbs, electron tubes, radio receivers, military technology to radio and television transmitters. The company has conducted its commercial activities under the TESLA name since March 7th, 1946. It is also the owner of the TESLA trade mark in more than 100 countries worldwide. Since 2007, the owner of the TESLA Company is investment company Kilcullen Kapital Partners.
Medium-wave radio transmitter was produced already in 1932 and several years later also the short-wave transmitter, operating on 59 m wave, was installed. The first television transmitter with a 5 kW power output was delivered, including antenna system, in 1953 and installed in Prague. One of the first measuring instruments for radio transmitters were produced in 1948, the first measuring instruments for television transmitters were produced in 1954. The historically first delivery of radio-relay equipment, connecting the television studio with the transmitter, dates back to 1953.
TESLA gradually built up a network of radio and television transmitting centres in the territory of the former Czechoslovakia and participated significantly in the construction of transmitting centres in former Eastern European countries. Along with transmitters, antenna systems designated according to the requirements of customers were delivered and installed. More than 1,500 TESLA transmitters, in the territory of the former USSR cover over 60% of all radio and television broadcasting. Many radio transmitters were sold to Egypt, Algeria, Yemen and Syria in spite of competitive offers from other producers.
The military technology production started as early as World War II. Rapid progress began in the second half of the 60s due to the development of radio-relay equipment inquired by the Czechoslovak Army. After a slump in the beginning of the 90s, which is attributed to the split of Czechoslovakia into two countries and the transformation of the economy, recovery took place due to the development of an entirely new generation of radio-relay equipment.
Presently, the Company TESLA specializes on supplies of transmitting technology, military telecommunications, water treatment solutions, solar technology and industrial plant.
Contact info #1
Director of Foreign Trade
Podebradska 56/186, 180 66 Prague 9, Hloubetin, Czech Republic
WATER TREATMENT SOLUTIONS
Water Treatment Solutions division of the company TESLA during its short time of activity has ranked among significant suppliers in waterworks engineering in water and wastewater treatment sphere. The division offers complete supplies and services from development, planning to production and putting the units into operation inland and abroad.

MILITARY TELECOMMUNICATIONS - MICROWAVE EQUIPMENT
RR 2200 a RR 2202 - Small digital radio relay station (POSEL)
RR is designed for building reliable digital radio relay links up to 15 km with transmission capacity 384 kbit/sec in the frequency band 2,2 GHz on a lower level of organizational units. The station can also be used for a connection of special communication (and other) units to the integrated tactical/operational communication system OTKS/TAKOM.

Technical specifications and standardized interfaces ensure connectivity with other technical means of the OTKS system (digital tactical switch DTP 100/40/10), and also facilitates the connection of other data terminals using radio relay link for mutual interconnection.
Design of the station facilitates application in different types of communication containers as well as a stand-alone unit.
Microwave Radio-relay links - TESlink
TESlink is a family of point-to-point digital microwave radios designed for easy deployment of short and medium links. TESlink is especially suitable for access and private networks.
The basic architecture of TESlink consists of three parts: a pole mounted Outdoor Unit (ODU), a rack-mounted Indoor Unit (IDU) and a single interconnecting cable.
RR 300, RR 1600 - Tactical radio-relay station
The MRRS 300/1600 stations are intended for digital radio-relay links in tactical networks in frequency ranges NATO l (225 - 400 MHz) and NATO lll (1350 - 1850 MHz) with data rates according to EUROCOM (256, 512, 1024 kbps) and ITU/T (2048 kbps) Recommendations. The stations are easily operated by a built-in keypad and display or over Network management system. Electronic counter measures include adaptive power control (APC), frequency agility and further features. The stations are equipped with engineering order wire and further servis channels.
SDH Microwave Links
The research & development of family of SDH microwave links for various frequency bands
The Software Defined Radio (SDR), which enables using of the same hardware for various configurations (transmission capacity, modulation, interface) of the device will be the base of solution. Due to this fact this development can be connected with the development of rr NATO IV link ( development project in the plan of Division Technical Development for 2008) because many parts will be universal. By using of this concept the commercial and military rr link will differ mainly in its mechanical construction. During the development of various devices a synergy will thus be achieved.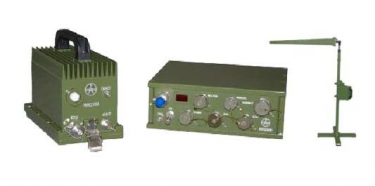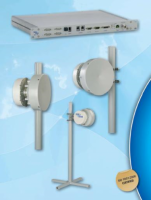 Product informational files
TRANSMITTING TECHNOLOGY - DIGITAL TV TRANSMITTERS
Digital transmitters not only facilitate the transmission of TV and radio signals, but can provide data transmission as well.

Digital transmission has already been brought on line in several European countries, which is stimulating rapid development in the sector. The company's development units are keeping pace with the latest developments in TV broadcasting equipment. By using new technologies like HF LDMOS semiconductor elements and CODFM coders with digital precorrectors, we have achieved better technical parameters and higher financial efficiency in both the existing and newly developed power ranges of DVB-T transmitters, which cover the 20 W to 1 kW band. This range enables a smooth and less costly transition from analogue to digital transmission. This new transmitter range comes complete with an innovative Ethernet-based remote control and diagnostic system, which significantly enhances usability. The digital transmitters can be easily and swiftly applied with DVB-H systems. The development of digital technologies will reach a new height with the introduction of a turn-key, universal modular solution.
Currently, TESLA´s digital transmitters are running in several experimental DVB-T projects. Ceske Radiokomunikace is operating an experimental digital terrestrial SFN network. A project being conducted by Czech DVB Group, a.s. is currently using our antennas and control system for all the project work. Our transmitters and antenna systems have also been supplied for other pilot projects conducted by the DVB Group, a.s., Cesky Telecom and Slovak Telecom. Cesky Telecom was the first company in the Czech Republic to use containers as an option for digital stations. In Moscow TESLA put a digital transmitter for broadcasting at 1 kW into experimental operation; the transmitter is being used exclusively for data services.
INDUSTRIAL PLANT
Chip-removal machining
Our plant is equipped with sixteen CNC milling and turning centres, which form the main production capacity of the factory. The follow-up operations, as are the thermal treatment of metals, surface finishes and further accompanying technologies, are provided by the cooperating plant. Our factory is not equipped with technologies for the mass and large-lot production of parts. The optimum number of pieces for the plant technology makes about 30,000 pcs a year. The products are used in mechanical engineering, in the fields of electrical industry, medical instruments and automation technology. Since 2003 the factory is holder of the ISO 9001:2000 certificate.
Chip-removal machining of metals
Steel, stainless steel, aluminium, brass, copper, bronze and alloys. The machining further comprises the plastics, particularly in a form of short-run production in series of up to 10,000 pieces.
Turning
CNC turning centres: flange dia. 250 mm

CNC turning centres: rod up to dia. 60 mm

Classic: dia. 250x1000 mm
Milling
CNC milling centres: 2000x800x600 mm vertical

Classic: max. 1300x600x500 mm
Grinding
Surface grinding - height x width x length: 200x300x500 mm

Round grinding - up to diameter of 70x320 mm
Mechanical shop
Mechanical work, welding, assembly of simple assemblies and bigger assembly groups
Measuring
WENZEL 3D

Engraving

Gravostyle 98
CUSTOMERS
ARMY OF THE CZECH REPUBLIC
ARMY OF SLOVAKIA
Transmitters or antenna systems are in operation for instance in Poland, Germany, Sudan, Egypt, Syria, Morocco, Yemen, Guinea, Nicaraqua, Uruguay, Mali, Algeria, Cuba, Estonia, Russia, Ukraine and in Armenia.
Tesla a.s.
Podebradska 56/186, 180 66, 9, Hloubetin, Prague, Czechia
+420 266 107 620
novacek.michal@tesla.cz